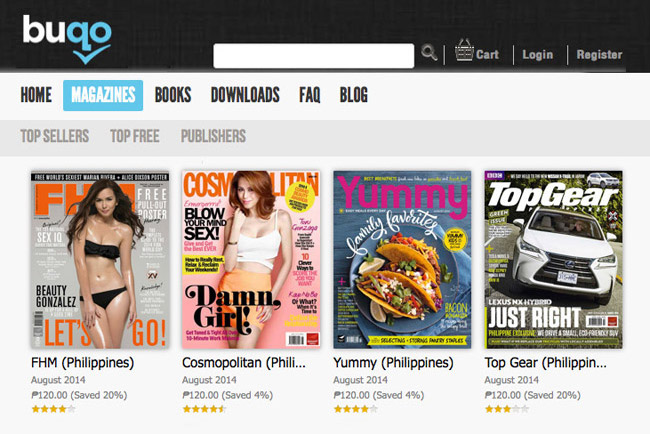 Top Gear Philippines is currently the fourth-best-selling local magazine on the Buqo digital newsstand. Buqo is the fast-growing online magazine store where you can download locally produced magazines. Our August 2014 issue is among the four most downloaded magazines on the virtual newsstand, together with FHM Philippines (1st), Cosmopolitan Philippines (2nd) and Yummy (3rd).
Other Summit Media magazines on the "Top Sellers" list are Men's Health Philippines (8th), YES! (11th), Entrepreneur Philippines (12th), Preview (13th), Women's Health Philippines (14th), Good Housekeeping Philippines (15th), Real Living (16th), Esquire Philippines (23rd), Candy (24th) and Smart Parenting (25th).
Our 2014 Roll-Out Issue, incidentally, still ranks among the top sellers at 29th in spite of having been released early this year.
If you want to download Top Gear Philippines via Buqo, the single-copy price is P120 (with a P30 discount from the hard-copy price of P150). A 12-issue subscription, meanwhile, costs P1,000 (with an P800 discount from the hard-copy price of P1,800), and a six-issue subscription is P580 (with a P320 discount from the hard-copy price of P900). A three-issue subscription is also available for P300 (with a P150 discount from the hard-copy price of P450).
ADVERTISEMENT - CONTINUE READING BELOW ↓
If you want to see a teaser of our current issue, please click here.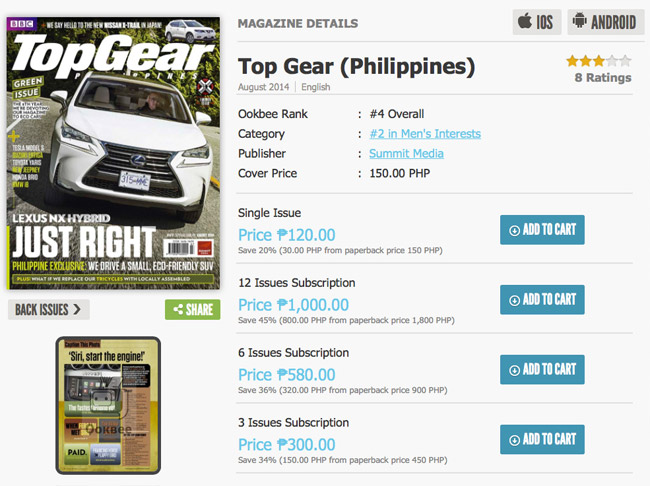 ADVERTISEMENT - CONTINUE READING BELOW ↓
Recommended Videos