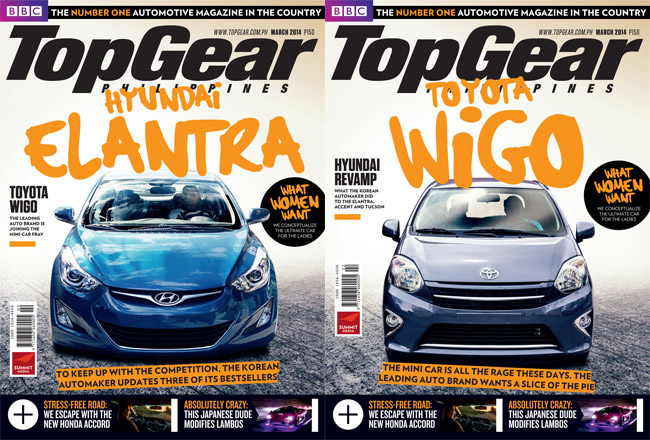 Here they are, our two covers for our March 2014 issue, featuring the face-lifted Hyundai Elantra and the recently launched Toyota Wigo. In the Elantra story, Botchi Santos discusses Hyundai's revision of its current models to keep up with the competition. In the Wigo article, Niky Tamayo convinces our staff to "go back to school." Fun issue, this one.
Meanwhile, Stephanie Asi conceptualizes the ultimate car for girls in celebration of International Women's Day on March 8. Dinzo Tabamo, for his part, escapes the city with the all-new Honda Accord for a very relaxing road trip.
Not to be missed are the Big Test comparo between the Chevrolet Spin and the Toyota Avanza; the profile article on a Japanese dude who modifies Lamborghinis; the test report on the new Toyota Corolla Altis; the long-term test drive of the Subaru XV; the styling critique of the Porsche Macan; and the story on the Lamborghini Huracan.
These and many more in our March 2014 issue. Get a copy now for just P150.
In the meantime, may we ask you which one of the two covers you're getting? Take the poll at the bottom.
[poll]508[poll]