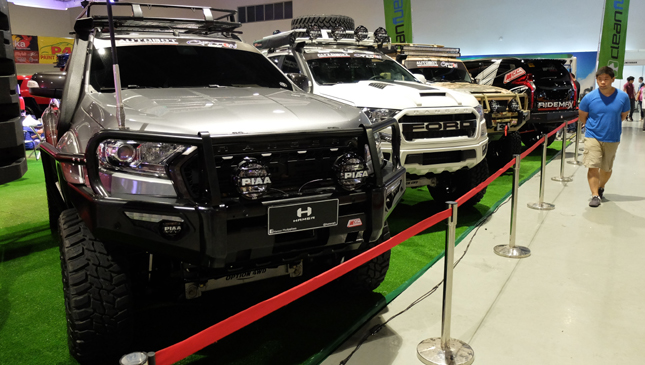 Do you still remember the widespread destruction brought about by typhoon Ondoy in Metro Manila and its neighboring provinces in September 2009? The massive flooding that reached the second floor of buildings, submerged thousands of vehicles, and caused numerous deaths hogged the headlines not only of local newspapers but also those from international media.
ADVERTISEMENT - CONTINUE READING BELOW ↓
Relief operations were launched by different organizations to provide food, clothing and medicine assistance to typhoon victims. This was when several groups of 4x4 vehicle enthusiasts stole the limelight from other volunteer teams as they managed to reach the severely affected areas using their monster pickups and SUVs.
Sophie Delos Santos, president of Trade Show International which organizes the Manila Auto Salon, realized this was a turning point. "This is when I noticed that the ratio of cars and light commercial vehicles (LCV) participating in the transport show tilted in favor of the latter," she says. "Right now it's a 60/40 ratio in favor of pickups and SUVs, while before it was the other way around."
Sophie organized the first Sport Truck Show in 1995, which was held at the 'Payanig' grounds in Pasig City. However, the customized pickups and SUVs were then still a niche market that only a few automotive enthusiasts appreciated. In 2004, Delos Santos decided to merge the Customs Car and Sport Truck shows for reasons of practicality that eventually led to the creation of the Manila Auto Salon.
ADVERTISEMENT - CONTINUE READING BELOW ↓
Recommended Videos
But when Ondoy wrought havoc in Metro Manila, the off-road vehicles became a necessity, particularly those living in calamity-prone areas. The sales of pickups and SUVs skyrocketed along with the aftermarket items for 4x4 vehicles, Sophie recalled.
The different 4x4 clubs that conducted search and rescue missions and distributed relief goods for flood victims in the aftermath immediately caught media attention. This inspired many LCV owners to modify their trucks in order to survive flooding.
Again, Sophie decided to separate the Customs Car show and Sport Truck exhibition, which is now on its 22nd year, because of the sales boom in pickups and SUVs.
This year's custom-built LCVs that joined the ongoing MAS are dominated by the Ford Ranger and Toyota Hilux pickups which were proven to have near-amphibious characteristics in flooded areas.
What kind of metal do you want to see at the Manila Auto Salon?