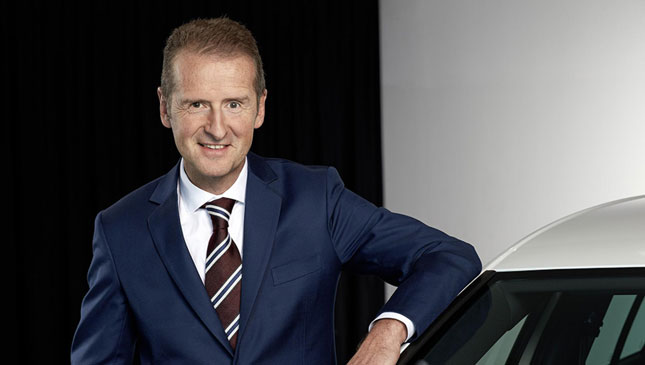 The VW Group has replaced its CEO Matthias Muller. The new man is Herbert Diess. Diess is an engineer who came to the VW Group having been development boss at BMW, and responsible for the i3 and i8 as well as the conventional cars. So it's likely that VW's new focus on electrifying its lineup will be safe with him.
Also, remember, BMW is the only German company that has come through the whole diesel emissions business without any of its engines showing up with questionable real-world results. And before his time as R&D chief there, Diess had been the purchasing boss, responsible for cost control, vital to profit.
Continue reading below ↓
Recommended Videos
He had been lining himself up to be CEO of BMW, but instead the job went to a rival. So Diess took up his bat and ball and got a job at the VW Group in summer 2015.
Within weeks, the diesel scandal engulfed VW. Here was a man, Diess, whose hands were obviously clean. Yet he didn't get the CEO job when the previous incumbent, Martin Winterkorn, was toppled by the scandal.
Instead it went to Muller. To anyone versed in the byzantine internal politicians at VW, Muller's appointment must have seemed sensible. He was a company lifer, so he would steady the ship. But to outsiders, Muller's appointment seemed a huge PR fumble. He had been head of the group's global product strategy at the very time the cheating engine was being rolled out across Europe and America.
Still, in his two and a half years in charge of the Group, Muller has made sweeping and positive changes. Most especially, he has pushed ahead with the plan to build dozens of electric models across the brands, and also launched the mobility services brand Moia and emphasized autonomous driving research.
Diess has to carry on with all that. But in the meantime he must prove to the world that the VW Group is able to build clean diesels. These remain a vast part of its portfolio and vital to cutting average CO2 emissions until the EVs are ready for primetime.
At the same time as elevating Diess, the Group has shaken up its management divisions. It frequently does this, in attempts to shake up its hidebound culture and slow decision making. Now there will be a 'volume' section of brands—VW, Seat, Skoda. Diess has direct charge of this. Then there's 'premium', which is Audi. Then 'super-premium' (Porsche, Bentley, Lamborghini, Bugatti). Another is China. And finally trucks, which is likely to be sold off soon to raise capital.
Diess is also taking personal charge of R&D and in-car IT/digitization. He said: "In a phase of profound upheaval in the automotive industry, it is vital for Volkswagen to pick up speed and make an unmistakable mark in e-mobility, the digitalization of the automobile and transportation as well as new mobility services."
Also on his plate is continuing cost reduction. VW is part-owned by the Region of Lower Saxony, the area of Germany that includes Wolfsburg. The region is keen to bolster local employment, so gives big sway to the unions. That's good for local employment, but also pushes up wages, cutting into VW's profit.
Oddly though, even after the extraordinary turmoil at VW—and the fact it's become increasingly clear that knowledge of the cheating was far more widespread than the initial claim of 'a few engineers'—car sales have hardly been affected. Profits over the past few years have been sufficient to cover the fines and recall costs of dieselgate. VW has slipped through it all unscathed, and indeed fitter for the future.
NOTE: This article first appeared on TopGear.com. Minor edits have been made.