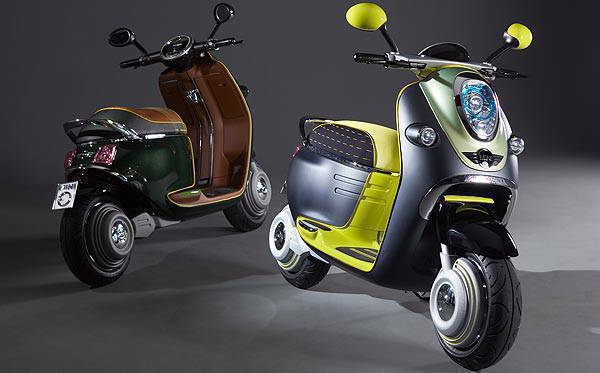 Mini will soon unveil its smallest vehicle ever--the Mini Scooter E Concept--just months after it revealed its biggest car, the Mini Countryman.
Designed to combine the agility of a two wheeler with the zero-emissions sustainability of an electric vehicle, the Mini Scooter E Concept exhibits the BMW Group's latest effort in its quest to achieve carbon dioxide-free mobility.
The Mini Scooter E Concept, to be unveiled at the Paris Motor Show, is powered by an electric motor integrated in the rear wheel. To charge it, one just have to plug its lithium-ion battery to any conventional power socket using an on-board charging cable. With the responsive pick-up of the Mini Scooter E's electric drive systems, and its low weight and compact dimensions, the two-wheeled scooter promises to be an agile vehicle in typical urban traffic conditions.
Though looking like a classic 1960s scooter, the Mini Scooter E Concept's design language was based on current production model Mini cars, the company said in a statement. Its profile particularly between its 11-inch wheels and the body structure reportedly emulates that of Mini cars while the windshield is angled in a way similar to that of the Mini hatch.
The most distinct connections between the Mini Scooter E Concept and the Mini cars, however, are its ovoid headlight unit which resembles that of the one used in the Mini Countryman, and the now-familiar Mini circular Central Speedometer.
Continue reading below ↓
Recommended Videos
Versions of the Mini Scooter E Concept to be shown in Paris are a matte anthracite and yellow two-seater, and a British racing green and brown one-seater.
"The Mini Scooter E Concept represents an electric vision of the future as urban mobility takes a new direction by Mini," said BMW design chief Adrian van Hooydonk. "The Mini Scooter E Concept is true to our brand values of distinctive design, intelligent functionality and customization and builds further on these characteristics by combining driving pleasure with sustainable technology into the first two-wheel concept of its kind for Mini."
Photos from BMW AG
[gallery]589[gallery]