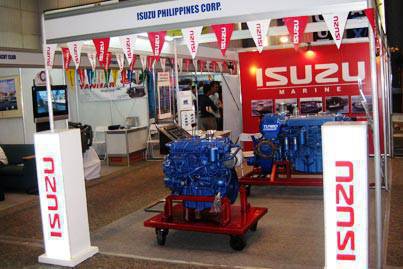 Isuzu Philippines Corp. imposed its authority in diesel engine production as it showcased its products at the first Philippine Boat Show.

Beyond engine production for trucks and light commercial vehicles, Isuzu likewise specializes in powerplants with marine applications.

"Isuzu has long had the expertise in the design and assembly of marine engines. I have no doubt that Filipino pleasure boat owners will be fascinated by the long roster of benefits that our marine engines offer," Isuzu Philippines president Keiji Takeda said.

Isuzu has been manufacturing marine engines for the commercial boat industry for over 60 years. It has gained popularity among boating enthusiasts due to its reliability, cost efficiency, and clean emissions. Isuzu also said its marine engines are easy to maintain and spare parts are readily available nationwide. Isuzu also offers on-call technical support to customers.

Isuzu Philippines displayed its 115ps four-cylinder UM4JB1TCX and its 230ps six-cylinder UM6BG1TC marine engines at the boat show, which may be used for light boats, fishing vessels and pleasure boats.

"Whether on land or out in the sea, trust Isuzu to propel you toward your destination," Takeda said.


ADVERTISEMENT - CONTINUE READING BELOW ↓