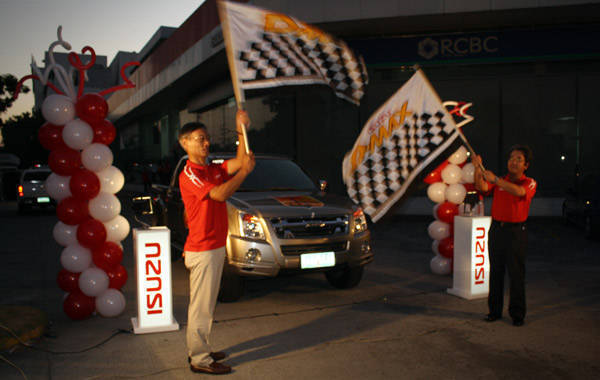 Isuzu Philippines has kicked off the first leg of the 2013 edition of the Isuzu Challenge, a road trip around the country that's "designed to test the mileage efficiency" of the Japanese carmaker's products.
For the first leg, a D-Max 4x2 is currently being driven from Manila to northern Luzon and back to Manila by Automobile Association Philippines officials as well as rally veterans Bebot Reyes and Ivan Isada.
Since the challenge is designed to subject the vehicle to realistic driving conditions, the D-Max is being driven during the day at speeds of up to 80kph, from Manila up to Pagudpud before making its way back to Manila through Isabela in a span of three days. Though the 2010 staging of the Isuzu Challenge saw a D-Max run for over 1,800km before running out of fuel, IPC has set a conservative target for this year's run.
"We're looking at 1,400km to 1,500km for the D-Max this year," said IPC sales division chief Joseph Bautista.
ADVERTISEMENT - CONTINUE READING BELOW ↓
Besides being driven only during daytime, other rules that are being strictly implemented during the three-day run are that the D-Max's engine can only be switched off during breaks and stops, and that the air-conditioning unit is set to the maximum thermostat level with the fan switched to the second setting during the entire trip.
Once the D-Max exhausts all the fuel in its 76-liter tank, marshals and an independent verifier will note down the number of kilometers traveled as indicated in the trip meter, and then divide it with the fuel tank capacity to determine the vehicle's fuel consumption.
IPC will hold the second leg of the Isuzu Challenge in May, featuring the Crosswind XT.
ADVERTISEMENT - CONTINUE READING BELOW ↓
Recommended Videos