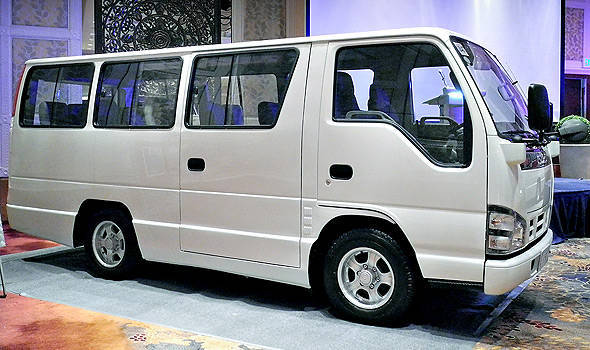 Isuzu Philippines Corporation has finally gotten into the full-size van business by introducing the i-VAN.
"The local landscape is indeed changing, and as transport needs become more demanding, we want to be the companion that working motorists can rely on," said Isuzu Philippines president Ryoji Yamazaki at the i-VAN's launch. "The Isuzu NHR with i-VAN body option is our answer to the growing requirements of Filipinos when it comes to people and cargo transport. It evolved from the Isuzu NHR platform that is known for its world-class durability, reliability and fuel efficiency."
Based on the light-truck platform of the Isuzu NHR, the i-VAN retains the Euro 2-compliant 2.8-liter turbodiesel engine that has an output of 91hp and 196Nm of torque, as well as the five-speed manual transmission with overdrive function. This is the same package that yielded an average fuel consumption of 12.965 kilometers per liter for the NHR in the 2010 Isuzu Challenge.
For the i-VAN's body, Isuzu Philippines once again tapped Centro Manufacturing Corporation, the country's first ISO-certified truck body builder and Isuzu Philippines' partner for the past 12 years in fabricating and assembling its truck bodies.
Since the i-VAN utilizes the NHR's platform, it retains some of its features like the three-point emergency locking retractor seat belts, its highly rigid frame, the 90-degree opening angle of its doors for easy ingress and egress, anti-slip aluminum steps, power steering with a steering column that tilts, all-around visibility, laminated green wind shield glass and large side view mirrors. Despite the truck-based platform, though, the i-VAN's ride is made more passenger-friendly, thanks to the improved flex-ride suspension.
Continue reading below ↓
Recommended Videos
Inside, the i-VAN has individual well-padded fabric-covered seats with assist grips and utility pockets, making it pleasantly different from the vinyl-covered, center-facing bench seats found in most shuttle vans. A factory-installed, dual compressor air conditioning system extends up to the rear, distributing cool air throughout the entire passenger cabin. Access to the passenger cabin is through a side door with a nearly 90-degree opening angle for convenience.
"The i-VAN is based on a model that's being sold by Isuzu in Indonesia and it's been doing very well there that's why we decided to bring it here," said Joseph Bautista, Isuzu Philippines' sales chief. "The i-VAN has no competitor in the market so while we still have to find out how the people will accept it, we're projecting its sales to be anywhere from 60 to 100 units per month."
The i-VAN can be configured from a spacious cargo van that seats only three people to a commuter vehicle that can accommodate 16 to 18 passengers or even as an ambulance. What's more important, though, is that despite its truck-based platform, the i-VAN is still small enough that it is classified as a Class-1 vehicle on expressways.
"The model in Indonesia actually has a bubble roof but if we used that here, the i-VAN would then be classified as a Class-2 vehicle, that's why we're offering it with a flat roof," Bautista added.
The i-VAN is now available at Isuzu's dealerships for an introductory price of P1.264 million.
Photo by Mikko David