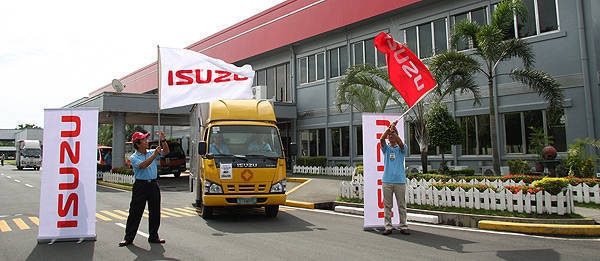 Isuzu Philippines Corporation (IPC) once again proved just how fuel-efficient its N-Series light-duty trucks are by staging a fuel-economy run featuring its NHR, NKR, NPR and NQR models. As an added twist to the challenge, the participants were Isuzu's fleet customers who had relied on the Japanese truck maker for their business needs and who had opted to use their respective N-Series trucks in the contest.
"The Isuzu N-Series has proven, for more than a decade now, that it can be a trusted workhorse, competently serving the transportation requirements of numerous businesses in the country," said IPC president Ryoji Yamazaki. "As an Isuzu, its reliability, durability and fuel-efficient qualities truly help in literally moving the Philippine economy forward."
With a driver and navigator in each of the 16 trucks, the participants took off from IPC's headquarters in Biñan, Laguna, and headed toward Filinvest Alabang via the South Luzon Expressway. They then turned around to go to the STAR Tollway in Batangas before they finally made their way to the Caltex service station in Paseo de Santa Rosa. The trucks were then topped off with Caltex Diesel with Techron D with the Automobile Association Philippines's executive assistant for advocacy Cynthia Reyes overseeing the vehicles' refueling procedures.
Continue reading below ↓
Recommended Videos
According to IPC, the 200km route was traversed with real-world conditions, and the participants were "tasked to drive safely and to adhere to all traffic regulations while attempting to record the best fuel mileage possible."
For the NHR category, Filbrakes Manufacturing topped its class with a fuel mileage of 16.07km/L. Winning in the NKR category--and registering the best mileage result overall--was Meralco (SDS Logistics) with 19.77km/L. For the NPR category, East West Seed emerged as the victor with 8.86km/L, while the NQR category saw Centro Manufacturing Corporation bagging the class trophy with a mileage of 8.93km/L.
"The N-Series trucks' achievement of being the bestseller in a competitive class is concrete proof of their superiority over their rivals," added Yamazaki. "It means the Filipino market has full confidence in the model, which can only be the result of a very satisfying ownership experience."