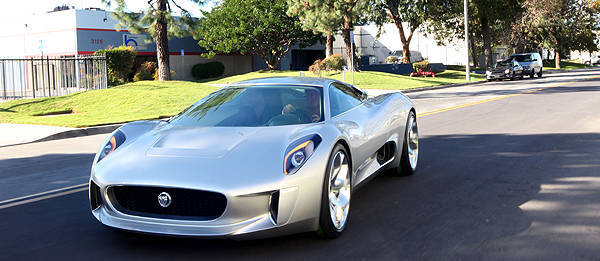 Jaguar and Williams F1 may have tussled on Formula 1 circuits from 2000 to 2004 but all that is behind them as the two companies are now working together to bring Jaguar's concept C-X75 hybrid supercar into reality.
The Jaguar C-X75 was first unveiled as a concept four-wheel drive electric supercar at last year's Paris Motor Show. However, instead of utilizing two micro gas-turbines which helped power the concept car, the production C-X75 will use a "state-of-the-art, small-capacity, highly-boosted internal combustion engine" to go with the powerful electric motor located at each axle.
"People expect Jaguar to be innovators--that is when Jaguar is at its best," said Adrian Hallmark, Jaguar's brand director. "The C-X75 received an incredible reception as a concept car. We've been building on that momentum and there is a clear business case for this exclusive halo model. No other vehicle will better signify Jaguar's renewed confidence and excellence in technological innovation than this."
Although the C-X75 will now use an internal combustion engine, Jaguar will continue to develop the use of micro-turbine technology as the carmaker's parent company, Tata, has taken a significant stake in Bladon Jets to "develop this very advanced technology as a medium-term aspiration that will play a part in Jaguars of the future."
Continue reading below ↓
Recommended Videos
To help aid Jaguar bring the C-X75 into reality, the British carmaker tapped the services of Williams F1 to provide its engineering expertise in areas like aerodynamics, carbon composite manufacturing and hybrid technologies. According to Jaguar, this association "will be at the leading edge of British automotive engineering and innovation" as both companies will "produce one of the world's highest performance and environmentally sustainable supercars."
"Our new association with Jaguar Land Rover provides us with an exciting opportunity to work with one of the motoring world's most famous and iconic brands," said Frank Williams, chairman of Williams F1. "Williams has always considered itself an engineering company and so this project will allow us to combine our technical expertise to create something truly exceptional."
Jaguar predicts that with the electric motors and combustion engine operating in unison, the C-X75 will be one of the fastest production cars in the world, with a zero-to-100kph time in less than three seconds, a zero-to-160kph time of under six seconds and a top speed of over 320kph. Incredibly, these performance figures are hoped to be achieved with a very low emission of less than 99g/km of carbon dioxide, thanks to the C-X75's lightweight construction and cutting-edge powertrain technology.
"Never before has the company launched such an ambitious, world-beating vehicle program," said Carl-Peter Forster, chief executive of Tata Motors. "This is the Jaguar of the future. The opportunity for innovation like this in the UK is part of the reason Tata Motors invested in Jaguar, and it's fantastic that products like the C-X75 can become reality."
Jaguar will build only 250 units of the C-X75 so if you plan on getting one, let the carmaker know as it is already "taking expressions of interest" for the car.
[gallery]910[gallery]