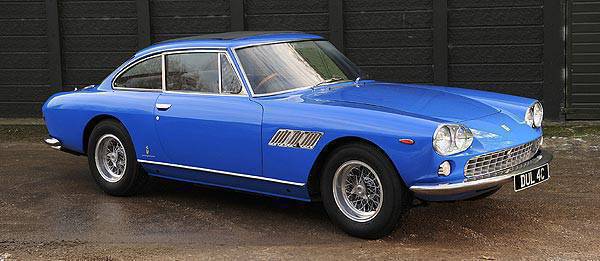 Many know of John Lennon's psychedelic Rolls-Royce Phantom V Limousine. He's also known to have owned a Mini at one time. What many Lennon fans don't know, though, is that the legendary Beatles' very first car was a 1965 Ferrari 330 GT 2+2 Coupe, which famed auction house Bonhams will put on the block on February.
A little background from Bonhams says Lennon passed his driving test at the height of Beatlemania in 1965. A few hours after the news was made public, luxury car dealerships filled the road outside Lennon's home with Maseratis, Aston Martins and Jaguars. Lennon was said to have inspected each and every car before chossing the then-£2,000-worth light blue Ferrari.
The car didn't stay long with Lennon though as Autocar Magazine had a listing in November 1965 from Brydon Cars offering for sale a Ferrari 330 GT fixed head 2+2 coupe in opalescent silver blue, equipped with electric windows, with only 3,000 miles on the odometer as an "ex-property of John Lennon MBE."
The Ferrari's history after that listing is unclear. In the late 1980s, however, Modena Engineering had acquired the car and sold it to the current though anonymous seller who restored it to its original specification.
Continue reading below ↓
Recommended Videos
So if you're looking to acquire a piece of automotive history that has a firm connection to popular culture, rock 'n' roll music and, of course, the Beatles, then place a bid on the car, which has a pre-sale estimate of €120,000 to 170,000 (P6.88 million to P9.75 million at €1:P57.336).
Photo from Bonhams