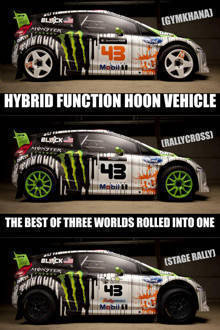 Ken Block has gone the "hybrid" route with his Ford Fiesta and that's by coming up with one multi-purpose race car that can be configured to compete in three different motorsport events.
"Many people may not realize this, but despite the fundamental similarities between stage rally, rallycross and gymkhana, in order to be the best at each, you must have specific built vehicles," said Block. "My WRC Fiesta just can't do what my Gymkhana Fiesta can, and vice versa. But having to campaign three separate cars is a nightmare, so we built one car that can be transformed to suit each form of racing I do on the highest level."
The Hybrid Function Hoon Vehicle (HFHV), or just 'Hybrid' as it has come to be known, got its name from its ability to transform and race for the three aforementioned motorsport disciplines, making it "one of the most unique and versatile competition vehicles ever built."
The Hybrid is based on the current 2011 Ford Fiesta RS WRC car, but instead of its regular 1.6-liter engine, it now packs a Pipo Moteurs-built 2.0-liter inline-four cylinder mill and an engine management system made by Cosworth Electronics to best achieve the power outputs required by both rallycross and gymkhana. Based on the powerplant used by the previous Ford Focus RS WRC car, it can put out an impressive 600hp and 904Nm of torque with the 45mm restrictor required by the Global Rally Cross series. Although the 2.0-liter engine makes it ineligible to compete in the World Rally Championship, the use of a 34mm restrictor will allow the car to compete in the Rally America series.
Continue reading below ↓
Recommended Videos
Completing the car's drivetrain is a custom AWD system and a six-speed sequential transmission to go with three adjustable mechanical differentials that are all produced by Sadev. To handle the varying surface conditions, specific Reiger suspension set-ups have been developed for each of the three modes.
The task of transforming the car ranges from half a day to an entire day. Though the rallycross and gymkhana set-ups are the most similar, the two disciplines still requires different gear ratios, entirely different suspension settings as well as a different wheel and tire combo in addition to engine mapping adjustments. It's the conversion to stage rally, however, that a lot of work goes into the car starting with the relocation of the cooling system from the rear to the front, a smaller brake set-up, the addition of a Recaro Ultima seat for the co-driver, a smaller turbo and items like functional headlights to replace the faux lamps to make the car roadworthy.
Block will race the HFHV at the Summer X Games 17 in Los Angeles, California on July 30 and 31.