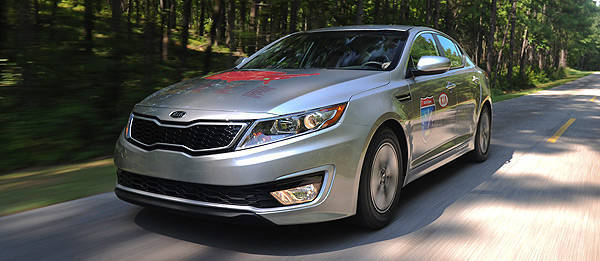 A stock Kia Optima Hybrid has set a Guinness World Record for using just 5.5 tanks of gasoline in a 14-day, 12,712-kilometer road trip while driving through all 48 adjoining states of the United States in a gasoline hybrid car.
Drivers Wayne Gerdes and Chris Bernius took turns in driving a factory-standard Kia Optima Hybrid sedan through a nearly 13,000 kilometer route across the United States to achieve an incredible average fuel consumption of 27.44 kilometers per liter.
The trip was completed in 14 days with Gerdes and Bernius driving an average of 907.67 kilometers per day and recording an average distance of 2,282 kilometers between fill-ups. To comply with Guinness World Record guidelines, the Optima Hybrid had to carry two people and their luggage throughout the trip.
"Kia Motors is deeply proud to have set a new Guinness World Record. It is testament to the quality of the design, engineering and production methods of the Kia Optima Hybrid," said Kia Motors' senior executive vice president and chief operating officer, Thomas Oh. "The drivers had to complete their unsupported drive through all kinds of American terrain and weather conditions and they did it without a single hitch from the Optima Hybrid while setting what is such an impressive fuel consumption figure."
Continue reading below ↓
Recommended Videos
Oh added that what makes the Optima Hybrid's performance during the entire 14-day road trip as even more impressive was that it drove temperatures ranging from more than 47.77-degrees Celsius to less than freezing point, climbed through the formidable Rocky mountain chain and negotiated rush hour traffic in Chicago, New York City and Las Vegas.
"The Kia Optima Hybrid was the perfect vehicle for this long road trip. It is spacious, comfortable and fun-to-drive, and the parallel gasoline-electric powertrain provided considerable efficiency at highway speeds and the car performed flawlessly throughout the 7,899 mile drive," shared Gerdes. "The remarkable economy figure we achieved included driving in all kinds of conditions, from straight open highway and deserts to gridlocked city traffic, so this really was the ultimate demonstration of the real-world fuel economy that any Optima Hybrid owner can achieve with attention to the details of their driving style."