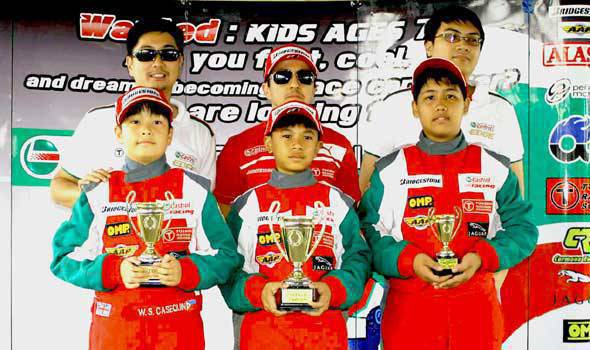 Twelve-year old Raymond Ryan Cudala showed great potential in motorsports as he dominated the pre-final and final races during the first leg of the 2011 Castrol Champions of the Future Series at the Carmona Racetrack in Cavite.
Cudala, a Grade 5 student of Elizabeth Seton School, showed an impressive start as he ended up being the only participant to break the 42-second barrier with a best time of 41.17 in the qualifying time trials. From there, he continued to dominate the race with a stock kart setup to best 16 other kids on the actual competition.
William Casequin, the nine-year-old son of touring car champion and TRS race car driver Stuart MacDonald, checked in runner-up in the races. He posted the second best time of 42.19.
Arthur Tuason, son of multi-titled champion JP Tuason and the grandson of the late legend Arthur Tuason, finished third in the pre-final race to upstage 11-year-old Gabriel Tayao Cabrera and 13-year-old Dominique Lao. In the finals, Peeve Madriaga pushed harder to claim third place, leaving Tuason on fourth and Cabrera on fifth.
Other participants were in the first leg of the 2011 Castrol Champions of the Future Series include KingVin Tan, Ronin Leviste, Arielle Leviste, Galen Yap, Iolo Estanislao, Julian Gabriel Espino, Bien Vicson Madriaga, Hanna Beltran, Flynn Keeling Jackes, Xedrei Daquigan and Matthew Maramba.
Continue reading below ↓
Recommended Videos
"I was quite stunned how aggressive these kids are even though it's yet their first time to race," said Castrol Philippines president Mars Sota, who gave each karter a medal. "I believe our program is on the right track here with the Tuason Racing School (TRS) taking charge of the search, and given the proper training and exposure, one from this batch could make it in the international scene."
The winner in the 2011 Castrol Champions of the Future Series will receive a scholarship package to run in the National Karting Series from the Automobile Association Philippines. They will be trained by seasoned race car drivers JP and Mike Tuason from the Tuason Racing School.
The last of the clinics is set on April 3. Interested parties may register online at www.championsofthefutureph.com or call the TRS secretariat c/o Aileen and Abi at mobile numbers 09175967580 and 09175967604 and telephone number 8177795 local 203 or 205.
The 2011 Castrol Champions of the Future Series is organized by Castrol and its partners: Tuason Racing School, the Automobile Association Philippines, Alaska, Pena Motorsports, AUTS Racing, Bridgestone, PUMA, OMP, Jaguar, Lifeline, Carmona Race Track, The Philippine Star, 99.5RTfm, Trapik.com, Kzone, Timezone and Top Gear Philippines.