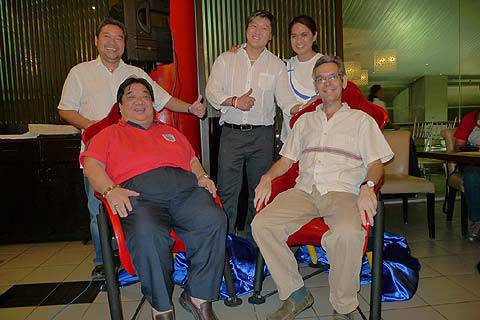 A group of car enthusiasts are joining forces to raise funds for Kookie Ramirez, one of the country's eminent race car drivers, who is currently battling cancer.
Alvin Uy, one of the organizers of the Manila International Auto Show (MIAS) thought of the project to help Ramirez fight bladder cancer. He approached friend and fellow car aficionado Reg Yuson, a visual artist, who, in turn, came up with the idea of making the Kookie Chair.
A-Toy Bodykits contributed the fiberglass racing seat shell that has been integrated with a pair of Bilstein shock absorbers as the rear posts--a crucial component to Yuson's design--from Makna Marketing Corp. Yuson then sprayed finish the bucket seat in Dupont's McLaren Red to complete the package: a race-inspired functional art piece that would be an interesting collection for both motoring and non-motoring fans.
"When Jason (Ang, also a MIAS organizer) told me about the project, I was both surprised and flattered to have such people do something like this for me," Ramirez said during the unveiling of the Kookie Chair. "I'd like to thank everyone who had a hand in making this project."
Only 12 pieces will be made for the Kookie Ramirez Arm Chair Project, all of which will be signed by Yuson. The seats will be displayed at various art galleries and car dealerships in Metro Manila. No price has been set for the Kookie Chairs as of this posting but project proponents said proceeds of the sale will be used to help Ramirez finance his battle against cancer.
Another fund raising activity similar to the Kookie Jar benefit gig held led at Route 196 along Katipunan Avenue, Quezon City in February is also being planned to jumpstart the sale of the Kookie Chairs.
Ramirez is one of the sons of Philippine racing legend Pocholo Ramirez, who passed away last year also due to cancer. 
(In photo from left: Olson Camacho of Project O Auto Shop, Atoy Llave of A-Toy Bodykits and artist Reg Yuson [standing]; Joseph Ang of Worldbex and Kookie Ramirez [sitting].)