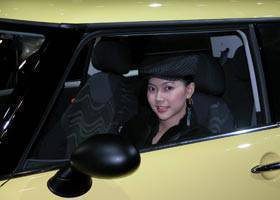 A shopping mall in China has reserved a parking lot with wider spaces specifically designed for lady drivers.
Wanxiang Tiancheng shopping center in Shijiazhuang, Hebei province has parking spaces "one meter wider than normal parking spaces" in a car park with different signs and monitoring equipment to address lady drivers' "strong sense of color and different sense of distance," Agence France-Presse reported via ABS-CBNnews.com.
The report came just after the U.K.'s Telegraph published a study implying men are better than women when it comes to parking.
"Female drivers take an average of 20 seconds longer to park their cars but are still likely to end up in the middle of the bay," the Telegraph reported.
Continue reading below ↓
Recommended Videos
The study was conducted with 65 subjects who were tested for time and accuracy in using different parking techniques, including head-on, reverse, and parallel, with an Audi A6.
"I don't think that feminism or the cause of women is in any way set back by these findings," said research head Dr. Claudia Wolf in the report. "It only proves what previous studies about the spatial differences between men and women have shown. Besides, it is not as if there was a massive failing by women. It is just about parking--not the triumph of men over women."