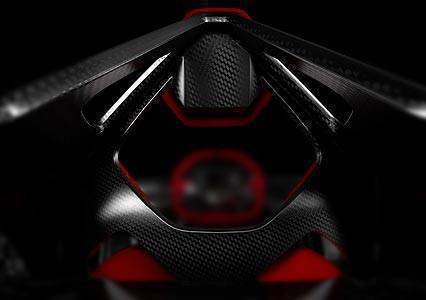 As expected, Lamborghini released the fifth of the six teaser photos of its mystery vehicle for the Paris Motor Show, which will open this weekend.
The image looks to be a close-up of the roll hoop that, as usual, is made of carbon fiber. Blurred in the background appears to be a flat-bottomed red steering wheel and the back of the red racing seat, both of which can be seen in the third teaser photo.
While the past five images are sure to whet anyone's appetite, some can't seem to wait for the car to be revealed and French website BlogAutomobile.fr has published what is purportedly the new Lamborghini supercar.
The car is said to be paying tribute to carbon, the sixth element in the periodic table, as it is supposedly called Sesto Elemento, or "sixth element" in English. It is, after all, made almost entirely of carbon fiber.
The Sesto Elemento reportedly weighs just 999 kilograms. With a V10 engine powering a car that light, a zero to 100kph sprint is said to take only 2.5 seconds with the car topping out at 350kph.
ADVERTISEMENT - CONTINUE READING BELOW ↓
Could this actually be the car Lamborghini will reveal in Paris? Your guess is as good as ours.