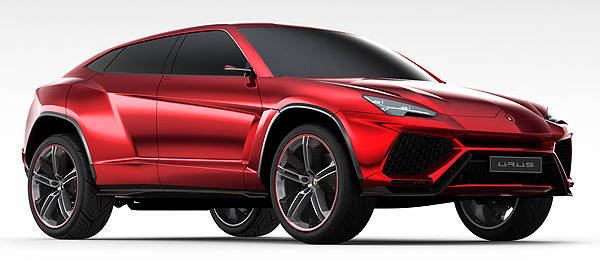 Lamborghini hopes its Urus SUV, which it debuted in concept form at the Beijing auto show last April, will do for the company what the Cayenne did for Porsche, and that's to double the brand's total global sales.
According to AutoNews.com, once the Urus goes into production by 2017, Lamborghini expects it to be its best-selling model "with an annual volume of 3,000 units because of strong demand in China, the United States, Europe, Russia and the Middle East." For 2011, the Italian carmaker's global sales numbered approximately 1,600 units for the different variants of its current models, the Gallardo and the Aventador.
"We think the SUV segment is the right one," the report quoted Lamborghini chief executive Stephan Winkelmann as saying. "It has the biggest growth potential and the highest emotion. We are investing in profitability."
AutoNews.com added that the production version of the Urus would utilize the same large SUV platform to be used by Lamborghini sister brands Audi, Porsche and Volkswagen for the next-generation Q7, Cayenne and Touareg, respectively. The same platform could also reportedly be used by another sister carmaker, Bentley, for its EXP 9 F concept, which it previewed at the Geneva auto show in March if it goes into production as well.
ADVERTISEMENT - CONTINUE READING BELOW ↓
ADVERTISEMENT - CONTINUE READING BELOW ↓
Recommended Videos
Lamborghini is supposedly hoping to keep the weight of the production version of the Urus to less than 4,400 pounds, making it around 440 pounds lighter than any of its competitors if it were already available today.
"We were given a very challenging target: Make the production Urus the best-performing and lightest vehicle in its category," Maurizio Reggiani, Lamborghini's research and development director, was quoted as saying. "This is forcing us to think outside the box."