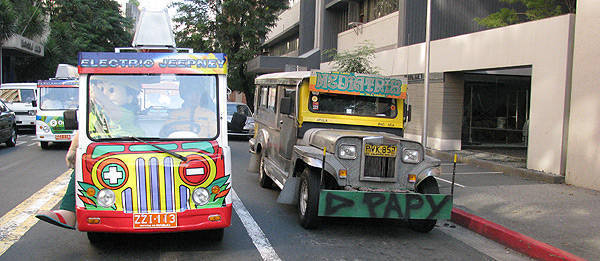 The Land Transportation Franchising and Regulatory Board (LTFRB) has just issued the Philippines' very first public-utility electric-jeepney franchise to eJeepney Transport Corporation (EJTC).
"Continuous operations of the eJeepney fleet in the last three years prove the technical viability of e-jeepneys as a superior mode of public transport. Finally the project has reached the commercial stage and we're confident and raring to demonstrate the full viability of the project," said Red Constantino, the director of Institute for Climate and Sustainable Cities (iCSC). iCSC, with the help of the local government of Makati, is the original operator of the e-jeepneys.
In operation since November 2009, the e-jeepney fleet initially covered the Salcedo Village and Legaspi Village loops. A third loop known as the Heritage Route, which traverses Makati's old landmarks, was added in July 2011.
"This move by the LTFRB shows the quality of leadership of the Aquino administration. This is not only about better transport but green jobs and green growth. We are proud to help shape the investment agenda of the country," said Yuri Sarmiento, chief executive of EJTC. "Makati is just the beginning. What we envision is a sustainable and efficient public transport solution that can be replicated all over the country."
EJTC will handle the e-jeepney's commercial run starting on March 1, 2012, but only with the Salcedo and Legaspi loops as the Heritage Route is still being run in its test phase by the iCSC.