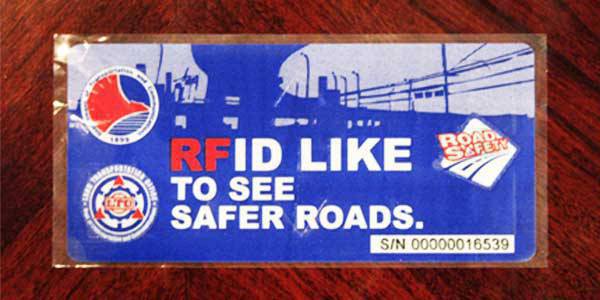 The Land Transportation Office (LTO) pushed through with the controversial radio frequency identification program despite protests from various groups regarding its legality.

The P350 RFID sticker is placed on the windshield of vehicles upon registration or renewal of registration. It is valid for ten years.

LTO chief Arturo Lomibao earlier said the RFID will "revolutionize land transportation in the Philippines and finally put some order in our streets."

The tag is designed to help the LTO in its drive against carnapping, colorum vehicles and air pollution, as well as the enhancement of the agency's registration process and vehicle identification.

Lomibao has repeatedly shrugged off privacy concerns, saying the RFID only contains vehicle information including engine chassis, plate number, type, make, year model, and last registration date.

"The only information on the RFID tag about the vehicle owner will only be his name. Even his address will not be included in the RFID tag," Lomibao has said.

Public and private transport groups, however, continue to have reservations over the RFID.

"The AAP Board believes that it still remains to be established and proven that the RFID System is indeed the most effective, least costly and most convenient way to attain those objectives," the Automobile Association Philippines said in a statement.
ADVERTISEMENT - CONTINUE READING BELOW ↓
ADVERTISEMENT - CONTINUE READING BELOW ↓
Recommended Videos