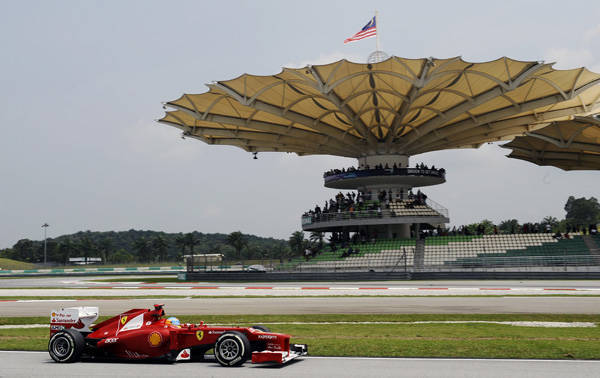 Sepang International Circuit, organizer of the Malaysian Grad Prix, is celebrating the 15th anniversary of its Formula 1 race by launching what it calls the "One Ticket Unlimited" program for the ticket buyers of this year's spectacle.
One Ticket Unlimited is practically an all-access pass given to ticket buyers of the 2013 Formula 1 Petronas Malaysia Grand Prix, who need to have it registered online at www.oneticket.com.my.
According to SIC, the program not only gives the ticket holders access to the three days of the race weekend, but they also get shopping and dining discounts and privileges. Best of all, for those who hold Grandstand tickets, they get access to the after-race concert headlined by hard-rock act Guns N' Roses.
SIC has also erected four kinds of motorsport tracks in one area of its sizable property that One Ticket Unlimited registrants can either drive or be driven on. For the rally and drift tracks, program registrants are taken on a taxi ride around either course by professional Malaysian race drivers. For the go-kart and all-terrain vehicle tracks, the program registrants themselves can drive the vehicles around the track.
Also part of the all-access pass are the public pit-lane walk (Friday, 6pm) and the autograph session (Sunday, 12nn).
The 2013 Formula 1 Petronas Malaysia Grand Prix weekend is scheduled on March 22 to 24. Grandstand tickets ranging from P6,200 to P24,550 are still available via the race's local ticketing agent, Red Rock Travel Philippines (www.redrocktravel.net).
Below is a list of ticket prices:
A. MAIN GRANDSTAND (NORTH UPPER TIER)
1. Diamond - Sold-out
2. Sapphire - P24,550
3. Emerald - P24,550
4. Ruby - P18,400
B. MAIN GRANDSTAND (NORTH LOWER TIER)
1. Crystal - P16,900
2. Turquoise - P13,850
3. Jade - P12,300
4. Garnet - P10,750
C. MAIN GRANDSTAND (SOUTH UPPER TIER)
1. Topaz - P10,750
D. MAIN GRANDSTAND (SOUTH LOWER TIER)
1. Citrine - P7,700
E. MAIN GRANDSTAND (TOWER)
1. Tower North Lower Tier - P7,700
2. Tower South Lower Tier - P7,700
3. Tower 1 - Not available
4. Tower 2 - Not available
F. GRANDSTANDS
1. K1 - P9,250
2. F - P6,200
G. HILLSTANDS
1. C2 (covered) - P1,750
2. K2 (uncovered) - P900
3. C1 (uncovered) - P900
4. C3 (uncovered) - P900