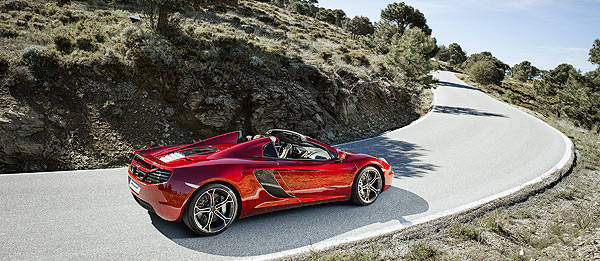 You've seen it in photos. Now, catch the McLaren 12C Spider in action, thanks to the official launch film that's been made available by McLaren Automotive.
The film begins with the 12C Spider on what seems to be the Ascari track in Malaga, Spain, before the action continues on the winding mountain roads of Andalucia.
Through the two-minute run of the film, we get to see the 12C Spider's retractable hardtop being lowered while the car is in motion--reportedly a unique feature among the car's competitors--as well as its performance figures that are flashed on the screen.
"We know 12C drivers love the Formula 1 technology DNA that runs throughout their cars," said McLaren Automotive managing director Antony Sheriff. "With the 12C Spider, owners will have an even greater opportunity to create their perfect driving experience. Top up or top down, the sports car with the highest performance among the competition just became even more breathtaking. The exhilarating aspects of driving the 12C Spider are captured beautifully in this great new film."
Watch the film that was supposedly shot using cinema-quality RED camera technology. Don't blame us if you start salivating while watching it.
If you're viewing this on a mobile device and can't see the video, please click here.
Continue reading below ↓
Recommended Videos