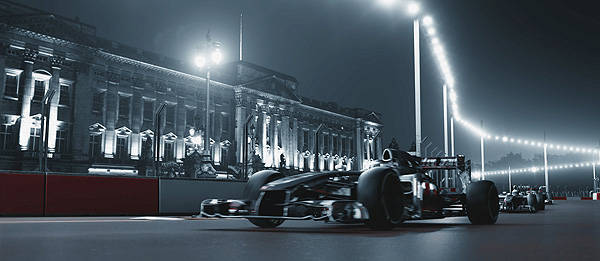 With the city of London preparing itself for the opening of the 2012 Summer Olympic Games nearly a month from now, British Grand Prix title sponsor Santander has taken it upon itself to imagine what it would be like to stage a Formula 1 race in the middle of the city's streets with its famous landmarks serving as backdrop.
To help Santander conceive the London Grand Prix, the Spanish banking group tapped two of the UK's Formula 1 world champions, who, incidentally, also drive for one of the teams the company supports, McLaren's Jenson Button and Lewis Hamilton.
Both Button and Hamilton were extensively consulted in the development of the 14-corner, 5.1km circuit, which features a starting grid on The Mall--a 309kph straight in the run-up to Buckingham Palace and onto "one of the most audacious corners anywhere on the sport's 20-race global calendar"--from Trafalgar Square, as the cars are funneled into Admiralty Arch. Much like the Singapore Grand Prix, the London equivalent is planned to be staged as a night race.
ADVERTISEMENT - CONTINUE READING BELOW ↓
"The idea of an F1 street race in London is something I have had for many years," said Formula 1 group chief executive Bernie Ecclestone. "It would be magnificent. A couple of years ago, we came very close to an agreement with the city of Westminster and the mayor's office, but we ran into the small problem of cost. A few years back, over half a million people turned up to watch F1 cars parading through the streets of the capital. The public's appetite for a London Grand Prix is huge, as I am sure it is with the F1 teams and sponsors."
If you're viewing this on a mobile device and can't see the video, please click here.
ADVERTISEMENT - CONTINUE READING BELOW ↓
Recommended Videos