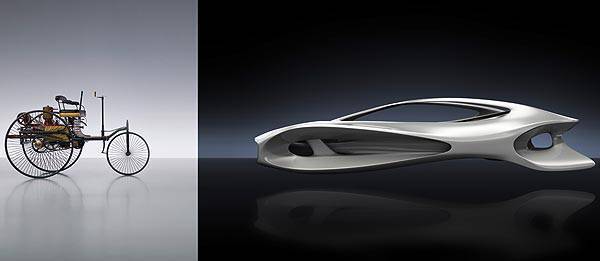 On January 29, 1886, Karl Benz registered his "vehicle with gas-engine drive" under patent number 37435 with the Berlin Patent Office, in effect creating the first automobile. One hundred and twenty five years later and Daimler AG, which was partly founded by Benz himself in 1926, is celebrating the anniversary of the automobile with a flurry of activities worldwide.
Kicking everything off is 125-day world tour of three fuel-cell-powered Mercedes-Benz B-Class cars from January 30 to June 4 through four continents and 14 countries. To coincide with the anniversary, another patent was also given to Daimler AG, more than 80,000 patents later after Benz's patent was granted 125 years ago, for a bipolar flat-cell frame which, according to the German carmaker, is "potentially a…step along the way to the industrialization of lithium-ion batteries."
Mercedes-Benz's design team also recently unveiled its latest sculpture known as Aesthetics 125, which provides a glimpse of the future design language of the German carmaker. The model was made by the design team using innovative rapid-prototyping technology that enables the digital data to be transferred directly to a design object. The technology works with various materials and applies them in fine layers so no waste material is produced when creating a sculpture.
Continue reading below ↓
Recommended Videos
Right on time for the automobile's 125th anniversary is a new milestone for Mercedes-Benz as the German carmaker has delivered 30 million automobiles since 1945, 65 years after vehicle production resumed after World War II.
"The invention of Daimler and Benz has changed the world for the better--and it will continue to do so. History shows that when a society becomes physically mobile it also becomes socially mobile and economically successful," said Dieter Zetsche, chairman of the board of management of Daimler AG and head of Mercedes-Benz Cars. "As the inventor of the automobile, Daimler strives to be at the forefront of shaping future mobility."
CATS Motors, the official distributor of Mercedes-Benz vehicles in the Philippines, is also firming up plans to celebrate the brand's anniversary. Watch for more details soon!