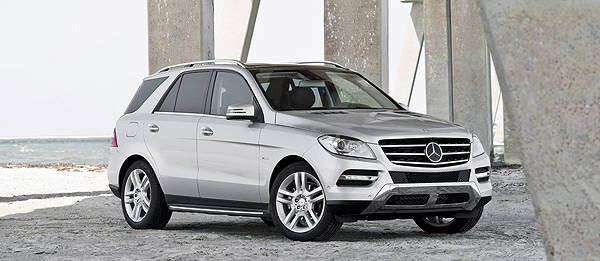 Mercedes-Benz has revealed the next-generation M-Class that promises to be more fuel efficient and environment friendly than its predecessor. The German carmaker also says the performance of the new Mercedes-Benz M-Class on- and off-road has improved.
"The M-Class embodies all the automotive experience that we have accumulated over 125 years and thus represents--in short--a quantum leap in terms of efficiency, safety, agility, driving enjoyment and design," said Thomas Weber, member of the board of management of Daimler AG for group research and Mercedes-Benz Cars development.
The all-new M-Class will initially be offered globally with three engines: two running on diesel, which Mercedes-Benz dubbed as BlueTEC, and one petrol-fed power unit under the carmaker's BlueEFFICIENCY badge.
While only making use of a 2.0-liter, four-cylinder engine on the ML 250 BlueTEC 4MATIC, its output is practically the same with that of its predecessor's. The 3.0-liter V6 ML 300 CDI runs approximately 16.67 kilometers on only a single liter of fuel and travels up to 1,170 kilometers on a single 70-liter fuel tank.
The ML 350 BlueTEC 4MATIC, meanwhile, utilizes a thoroughly reworked version of the 3.0-liter V6 mill of its ML 350 CDI predecessor but with its performance figures pushed up to 258hp and 620Nm of torque, for a 27hp and 80Nm of torque difference over the latter.
Continue reading below ↓
Recommended Videos
As for the ML 350 4MATIC BlueEFFICIENCY, which is still equipped with the 3.5-liter V6 like its predecessor, output is much higher at 306hp and 370Nm of torque, over 34hp and 20Nm of torque higher than that produced by the second-generation ML 350 4MATIC.
While all three models have a standard 70-liter tank, a 93-liter tank is available as an option. This pushes the ML 250 BlueTEC 4MATIC's range to as much as 1,500 kilometers on a single tank of fuel.
Mercedes-Benz did not just pay close attention to the M-Class's engine. A comprehensive package of measures help the all-new M-Class attain its excellent fuel economy.
Besides the standard ECO start/stop function, there's also the new seven-speed 7G-TRONIC PLUS automatic transmission with a new fuel-economy converter, friction-optimized bearings and a transmission oil thermal management system. Low-friction axle drives, electric steering and tires with low rolling resistance also play a part in reducing fuel consumption.
To enhance the M-Class's on- and off-road prowess, the new "On&Offroad" package uses a range of six transmission modes to optimize the vehicle's driving dynamics and handling safety, making sure that the necessary drive control is there to cope with the very different operating conditions encountered on and off-road. One automatic mode, two specifically off-road modes and three on-road modes are available.
The all-new Mercedes-Benz M-Class is expected to arrive at showrooms worldwide later this year.
[gallery]953[gallery]