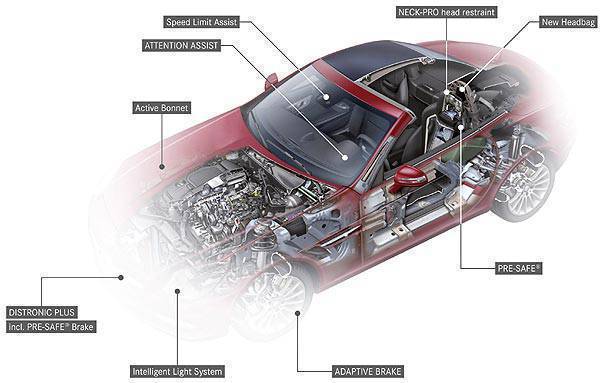 If you often find yourself getting drowsy behind the wheel--not that you should fall asleep while driving--it may be time to save up for the Mercedes-Benz SLK, which will be launched in January 2011.
Mercedes-Benz revealed that the open-top sports car will be equipped with Attention Assist, a drowsiness-detection system; and the Adaptive Brake system, which prevents the vehicle from rolling back when the driver is moving uphill, keeps the vehicle stationary without having to apply the brakes continuously like when the driver is waiting at traffic lights, and applies brakes lightly to dry the brake discs without the driver noticing during wet conditions.
As a precautionary measure, the Adaptive Brake system also engages the brakes lightly when the driver abruptly steps off the accelerator so the necessary braking pressure can be attained quicker when in an emergency braking situation. The Adaptive Brake system also works in conjunction with the adaptive brake lights in that the vehicles behind it are warned with flashing brake lights in emergency braking situations.
Available as options with the all-new SLK are the radar-based Distronic Plus proximity control and the Pre-Safe brake system, both of which are already found in other Mercedes-Benz models.
Under normal driving conditions, Distronic Plus adjusts the distance of the SLK to the vehicle in front of it automatically. If necessary, it can apply the brakes to bring the SLK to a stop and accelerate again, taking some strain off the driver particularly in bumper-to-bumper driving conditions. If the distance starts to narrow too quickly, the system gives the driver visual and audible warnings, thereby prompting the driver to take action, at which point he is also supported by the Brake Assist System Plus.
Continue reading below ↓
Recommended Videos
If the systems detect the possibility of a front-end collision and the driver fails to react, the Pre-Safe brake system is activated in two stages: partial autonomous braking followed by full braking when the driver still fails to react to the situation.
The all-new SLK will also have Mercedes-Benz's Pre-Safe anticipatory occupant protection system, which activates precautionary protective measures for the vehicle's occupants so that the seat belts and airbags are able to maximize their protective function upon impact.
The SLK will also get additional post-crash measures to supplement the Pre-Safe system.
Depending on the damage, the interior lighting can switch on automatically, the side windows open by 50mm to provide better ventilation in the interior, and the steering wheel can be moved upwards in vehicles with the Memory package.