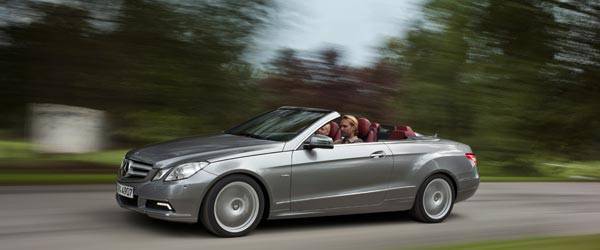 The delivery of the all-new Mercedes-Benz E-Class Cabriolet will start on March 27. When do we see it on local roads?
CATS Motors, the exclusive distributor of Mercedes-Benz vehicles in the Philippines, has yet to decide if it will sell the E-Class Cabriolet in the local market. If it does come to our shores, it won't be until the third quarter of 2010, CATS press relations officer Grace Enriquez said.
While we're just left to ponder how good a car the E-Class Cabriolet is, Mercedes-Benz assures consumers it was developed with the motto "four seasons, four passengers" in mind. Despite it being a classic, fabric soft-top cabriolet, the car is still suitable to be driven all-year-round.
Continue reading below ↓
Recommended Videos
The fabric soft-top can be fully opened and closed automatically in just 20 seconds, even if the car is in motion of up to 40kph. The cabriolet roof is stowed in a special compartment behind the rear panel, with a retractable cover separating the soft top compartment from the boot area. If the roof is close, the retractable cover can be slid rearwards to increase the boot's capacity to 390 liters.
Other new features in the all-new Mercedes-Benz E-Class Cabriolet include the AIRCAP automatic draught-stop which reduces turbulence substantially as well as lowering the interior noise level for all four occupants whenever the soft-top is open, and the modified AIRSCARF neck-level heating system. Both are welcome features when the fabric soft-top is down.
The E-Class Cabriolet acoustic soft-top is fitted as standard which means it has one of the quietest interiors in its segment of four-seater premium cabriolets.
Seven different engines, with six in BlueEFFICIENCY trim, will be made available for the E-Class Cabriolet, with the least powerful E 220 diesel producing just 170hp while the most powerful petrol-fueled E 500 churns out 388hp.