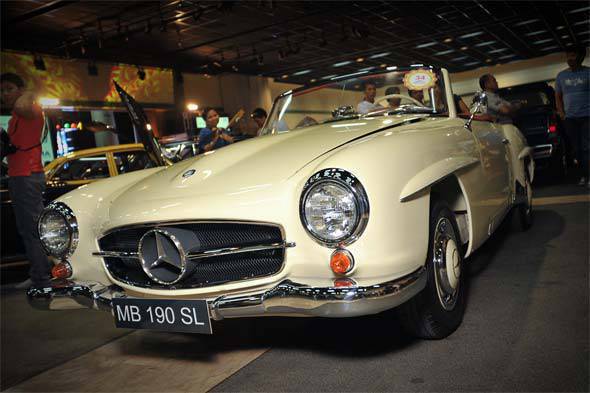 The classic 1958 Mercedes-Benz 190 SL by Bench Auto Restoration topped the 7th Manila International Auto Show's Custom and Classic Car Competition.
The car is a family heirloom that has been with Bench Auto Restoration proprietor Benjo Dizon for over 50 years. His dad bought it as a brand-new vehicle in 1959 and we're pretty sure he'd be elated to know it also won the Best Golden Era award at the MIAS.
Dizon shared that the award-winning 1958 Mercedes-Benz 190 SL was one of Bench Auto Restoration's first projects when it opened shop in 2005.
He added that the Mercedes-Benz first competed in a car show in 2006 where it drew raves from both the judges and attendees. Back then, however, the car failed to capture the Best of Show award.
"We hadn't worked on the engine yet so when the judges asked us to start the engine, we couldn't--which was probably why we didn't win the Best of Show award," reminisced Dizon.
Since then, Dizon had meticulously worked on the 190 SL to turn it into its winning show-car state today. He said he has spent roughly P1 million to restore the prized vehicle.
"The bumpers are still its original bumpers but we've had to import stuff like the badges and the side mirrors from the United States. The windshield is still original but we had to replace the convertible top," Dizon said.
Continue reading below ↓
Recommended Videos
Dizon shared that ever since he entered the 1958 Mercedes-Benz in shows, it never fails to get someone's attention. It makes so much impact on people that some car-show visitors even offer to buy the car.
"We've had people offer P1 million to P3 million for the car. Just last Saturday, someone offered to buy it for P3 million but we always tell them that we'll have to ask the owner first," said Dizon. "But we always get their contact information because just in case the time comes that my father wants to sell it, then at least we know which people to call."
If this is your car, would you sell it?
[gallery]870[gallery]
Photo by Mikko David