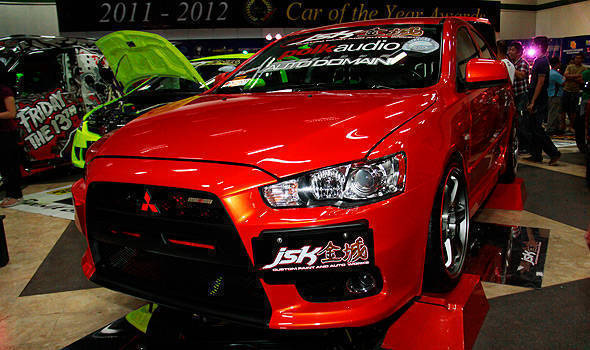 While restored classic cars often take home the highly-coveted Best of Show trophies in most auto shows, a modern car in the form of a 2010 Mitsubishi Lancer MX entered by JSK Custom bagged the honor at the 2012 Petron-Manila International Auto Show (MIAS) Custom Classic Car Competition.
In the business for the past 25 years, JSK's proprietor Johnson Tan was given complete authority by the car's owner to modify the car as he saw fit.
"The car's owner is a friend of mine, and he just gave me the keys to it and practically left it up to me to customize the car," Tan recalled.
What followed was a series of extensive modifications as almost no part of the car was left untouched, from the paint down to the suspension as the Lancer MX now sports a vibrant orange hue for its bodywork and chromed control arms, respectively. Completing the car's transformation to a pseudo-Evolution X are the bodykits inspired by that very same car and the chromed, dual burnt tip exhaust system.
The modified Lancer MX impressed the panel of judges led by multi-awarded car restoration expert Alex Isip that it took home four awards, including Best in Paint. All in all, JSK Custom won a total of eight trophies with its entries.
Continue reading below ↓
Recommended Videos
"It feels great winning all these awards. Modifying cars has been my hobby since I was young and winning awards like these validate my efforts," said Tan.
As the saying goes, there's no rest for the weary as even with the 2012 MIAS drawing to a close with the awards yesterday, JSK Custom is already working on its entries for another major auto show this April.
"Let's hope we can make it two in a row," Tan said wistfully.
[gallery]1192[gallery]