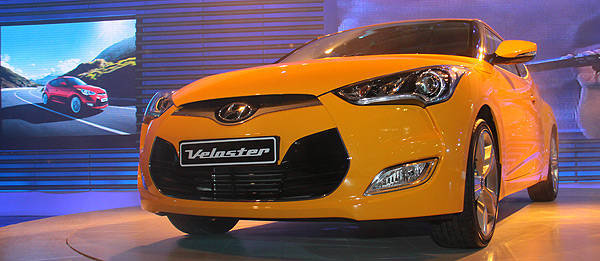 A lot of people have asked for it and Hyundai Asia Resources (HARI) has finally responded to the clamor by finally bringing in the Hyundai Veloster.
The world's first true three-door asymmetrical design, the Veloster is a new concept as it combines the styling of a coupe and the functionality of a hatchback with one door on the driver's side and two on the other. The rear door's handle is even hidden from view and can only be flicked from the corner of the passenger side window, ensuring the car's seamlessly smooth and uninterrupted bodywork.
The Veloster sports a wide and low stance with its front fascia highlighted by Hyundai's signature hexagonal grille and the scalloped-design of the projection-type LED headlamps. Adding to the car's dynamic and high-tech look are the unique taillights, stylishly shaped LED side repeaters, a rear spoiler with LED-type high mount brake lights, front foglamps that are set low on the bumper, a centered twin tip exhaust tipped in chrome, and a panoramic sunroof.
Inside, the Veloster has a futuristic-looking dual-cylinder supervision cluster which echoes the twin pipes of a motorbike exhaust. Further emphasizing the Veloster's high-tech interior is the center console with its switches and controls to access the car's multimedia functions, including a seven-inch LCD screen that displays all the information you need. The screen also serves as the display for the car's rear-view camera. The Veloster's steering wheel also has remote functions for the audio and Bluetooth hands-free system as well as paddle shifters to provide a tactile feel when driving without having to move your hands from the steering wheel.
Continue reading below ↓
Recommended Videos
An inline-four 1.6-liter GDi engine that has an output of 138hp and 167Nm gives the Veloster a sporty driving experience, and at the same time, optimizes fuel economy. Taking advantage of the Veloster's full engine power is a six-speed dual-clutch transmission that "provides enhanced fuel efficiency, improved driving quality, reduced noise, and better durability with performance-enhancing features that make gear-shifting exhilarating, as well as effortless."
An electric motor-type clutch actuator fitted in the dual-clutch transmission promises a seamless gear change with precise control and optimized response. With a double input shaft structure gear train that uses one solid and one hollow input shaft, the dual clutch transmission delivers excellent gear shifts with no loss of power for smoother shifts and accurate power delivery.
Much like the Elantra's appearance at the 2011 Manila International Auto Show, the Veloster's appearance this year is also just a preview. HARI promised, however, that "it will soon be available to the public."