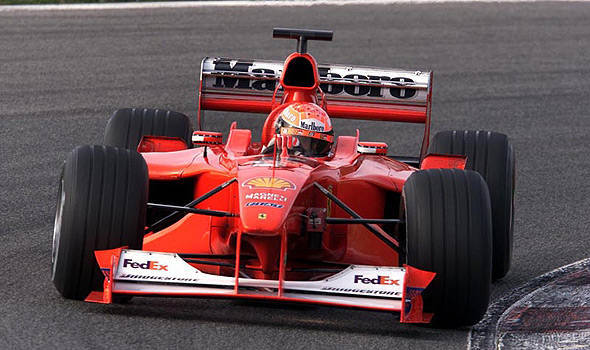 For the modern Formula 1 fan, this could be the Holy Grail of the sport's memorabilia. A Ferrari Formula 1 car driven by Michael Schumacher will soon be available to the highest bidder.
According to RM Auctions, the auction house handling the car's sale in Monaco in May, this particular Ferrari F1-2000 bears the chassis number 204 and is one of only eight cars produced by the Italian carmaker. It also bears the unusual distinction of being the least raced example, "accruing only 1,128km over its roughly 18 months of testing, qualifying and racing."
Though the car was driven extensively by Luca Badoer in his then role as the team's chief test driver, chassis number 204 also saw action in the 2000 season, having been driven by Schumacher in the Austrian Grand Prix. The car then resumed testing duties until it was retired in January 2001 following a mechanical failure at an off-season test session in Circuit de Catalunya in Spain.
In March 2004, chassis 204 was authenticated by Ferrari through its Ferrari Classiche program prior to it being purchased by its current owner in 2006. The car was then restored to its peak operating condition in 2008 by Ferrari, costing nearly €150,000 as reflected by receipts that accompany the car's documentation. This work reportedly included outfitting the 204 with a new Tipo 049 engine that has since been driven only approximately 400km.
Continue reading below ↓
Recommended Videos
Do you think an estimated price of between €680,000 to €850,000 for a Ferrari Formula 1 car that gave Schumacher his third drivers' championship--and his first of five with Ferrari--as well as helped the carmaker repeat as constructors' champion is fair enough? After all, despite being raced just once, it still helped Ferrari mark the first time in 21 years that it earned both the drivers' and constructors' crown, which eventually led to four more double championships.