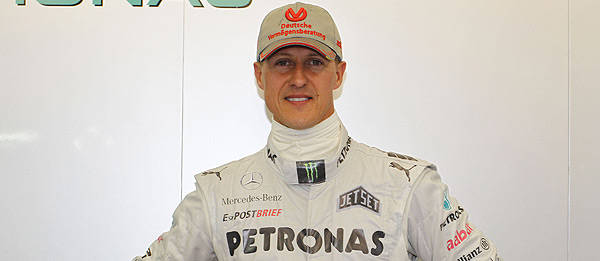 After three seasons since his comeback into Formula 1 with the Mercedes GP Petronas team in 2010, seven-time world champion Michael Schumacher has announced that he will once again retire from the sport at the end of the current 2012 season.
"I have decided to retire from Formula 1 at the end of the season, although I am still able to compete with the best drivers of the world," Schumacher said in a statement. "This is something that makes me proud, and this is part of why I never regretted my comeback. I can be happy with my performance and the fact that I was continuously raising my game during the last three years. But then, at some point, it is time to say goodbye."
Schumacher's departure from the series will be his second one following his first retirement in 2006 from Ferrari, where he spent 11 of his 19 seasons in the sport and claimed five of his seven driver's titles. His return to Formula 1 was sparked when he was tapped to replace the injured Felipe Massa midway through the 2009 season. The severity of the neck injury he incurred following a motorcycle accident earlier in the year, however, prevented him from taking Massa's place.
Continue reading below ↓
Recommended Videos
With his interest in returning to Formula 1 piqued following his aborted replacement of Massa, fate apparently smiled at Schumacher when his former technical director at Ferrari, Ross Brawn, decided to sell his Brawn GP Formula 1 team to Mercedes-Benz while still staying on as the team's principal. Presented with the opportunity to drive for Mercedes-Benz, whose young driver's program he was once part of prior to his joining Formula 1, and to work once again with Brawn, who was instrumental in his success in Ferrari, Schumacher signed a three-year contract with the new Mercedes GP Petronas Formula 1 team in 2010.
But fate had different plans for Schumacher. His first season with Mercedes GP Petronas saw him end it in ninth place, the worst of his career since his six-race stint in his rookie season in 1991, which he finished in 14th place. In his three seasons so far with the Mercedes team, his only podium finish came with his third-place performance at the 2012 European Grand Prix in June.
"Already during the past weeks and months, I was not sure if I would still have the motivation and energy necessary to go on, and it is not my style to do anything which I am not 100 percent convinced about," Schumacher added in his statement. "With today's decision, I feel released from those doubts. In the end, it is not my ambition to just drive around but to fight for victories."
Last week, the now-called Mercedes AMG Petronas Formula 1 team announced that 2008 world champion Lewis Hamilton will be taking over Schumacher's seat from the 2013 season onward.