One fine Saturday morning in March, car-club members and motoring journalists drove around Clark Field in Pampanga in 63 cars with just one goal in mind: to arrive at certain destinations on time--all the time.
Members of the Top Gear Philippines team joined separate groups that had different strategies in winning the competition. Check out the video below.
If you're viewing this on a mobile device and can't see the video, please click here.
And the winner is...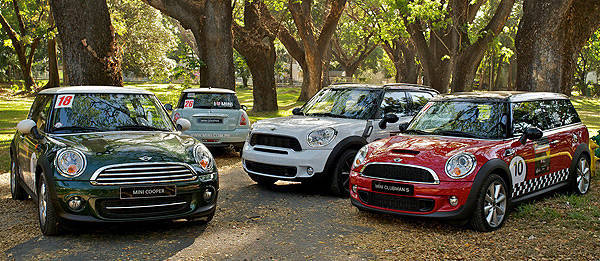 Team Mini! It topped the 2012 Auto Rally Corporate Challenge, giving British United Automobiles, the British carmaker's official distributor in the Philippines, an auspicious debut at Sunshine Television's annual on-time, all-the-time race.
Continue reading below ↓
Recommended Videos
Comprised of a handful of members from the FunRun Forum car club that, incidentally, also made up most of last year's winning team of Team Motor Image Pilipinas, Team Mini bagged three of the ten checkpoint awards with team members Elbert Cuenca, Raul Ylanan and Nino Pasamonte leading the pack. At the end of the day, not only did the team of Cuenca, Ylanan and Pasamonte finish the rally to nab the first overall runner-up spot, the entire team's consistency enabled it to nab the overall championship.
"Thanks to Willy Tee Ten and Mike Cua of Mini for believing and supporting our team," said team member Raffy David. "Biggest thanks goes to our captain Eric Valera who has truly and selflessly trained us well."
While Mini bagged the overall team title, of the 63 cars that participated in the race, the team fielded by Kia composed of former professional rally navigators Raul Asuncion, Steve Acayan and Barry Ortiz took home the Individual Team Awards for being the most consistent to reach the 10 checkpoints at their respective prescribed times.
Corporate Team Awards
Champion – Mini
First runner-up – Mitsubishi
Second runner-up – Kia
Individual Team Awards
Champion – Raul Asuncion, Steve Acayan and Barry Ortiz (Kia)
First runner-up - Elbert Cuenca, Raul Ylanan and Nino Pasamonte (Mini)
Second runner-up – Froilan Dytianquin, Arlan Reyes and Alexis Aspillera (Mitsubishi)
Photo from Raffy David's Facebook page