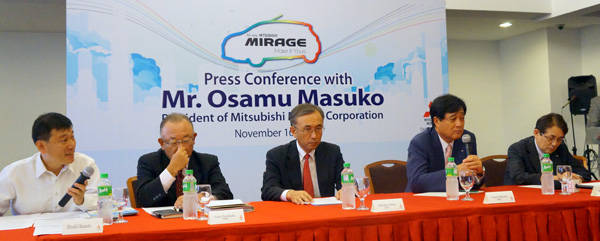 There is perhaps no bigger indicator of the Mitsubishi Mirage's importance to our market than the fact that the president of Mitsubishi Motors Corporation of Japan, Osamu Masuko, personally attended the Mirage's grand Philippine launch this month. Masuko also had a press conference for the business and motoring beats, which we attended.
We can't emphasize enough what a rare opportunity it was to have a face-to-face interview with the head of a major carmaker like Mitsubishi, and the fact that it was done on our home soil made it a very big deal. We prepared a short list of questions, all of which the Mitsubishi president answered through an interpreter.
We learned that production of the Mirage started in April this year in Thailand, where the units were first sold. The car was then rolled out in Brunei, Indonesia and Japan. Then it arrived in our market. Next up is Malaysia in December, followed by Europe, Australia and finally North America.
Now that Toyota and Honda have introduced their hybrid cars, we wondered if Mitsubishi was next and if a hybrid version of the Mirage was their bet in that segment. Masuko said the size of the Mirage is perfect for an electric vehicle. Thus, Mitsubishi's plan is to make an electric variant rather than a hybrid.
Continue reading below ↓
Recommended Videos
We believe they can do it. Mitsubishi Motors Philippines already displayed an i-MiEV electric car at this year's Philippine International Motor Show. Naturally, we asked a company executive if we could borrow it. Our contact said they would gladly lend it for evaluation but it had not been registered because the LTO didn't know what kind of plates to put on it. So, until the LTO figures out how to register the i-MiEV, the Mitsubishi electric car just languishes in storage.
Speaking of the i-MiEV, it turns out this model is special to Mitsubishi Motors' president. At first, we wanted to know if a sportier Mirage was coming, because we had fond memories of the Galant VR-4 that was recently in Manila. Moreover, we said, even the i-MiEV was able to do the Pikes Peak International Hill Climb.
"We are concentrating on small, high-efficiency and environment-friendly vehicles," Masuko said. "So we have no plans to mass-produce high-power vehicles for racing. I'd like to explain a little bit about Pikes Peak. In July 2009, we started selling the i-MiEV, and we continuously developed it. We felt motorsport was a good opportunity for testing. So we joined the Pikes Peak challenge this year and got second place in the Electric Vehicles category. Next year, we want to be the champion--even in the gasoline category."
While there's no doubt that Mitsubishi is betting big on the Mirage, what's more interesting is what the carmaker plans to do with it. It's going to be one busy car.