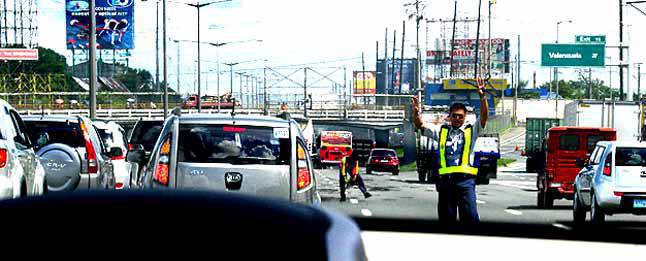 The Metropolitan Manila Development Authority (MMDA) will field more than 1,000 traffic enforcers as part of its Metro Alalay Semana Santa program.
"I have declared a no-day-off-and-no-absent policy for all our traffic personnel, particularly on April 20, 21, 24, and 25, when traffic is expected to be congested," said MMDA chairman Francis Tolentino.
According to Tolentino, the traffic enforcers will be deployed on major thoroughfares, particularly EDSA, and other exit points of Metro Manila starting April 20. Traffic enforcers will also be assigned to the roads leading to provincial bus terminals, airports and seaports to guarantee the safety of the thousands of commuters that are expected to trek to the provinces to take advantage of the long holiday.
For the bus terminals, Tolentino said the agency will strictly enforce the nose-in-nose-out policy, effectively prohibiting bus drivers to maneuver their vehicles along EDSA. In addition, buses will not be allowed to load and unload outside of their respective terminals.
The agency's Traffic Discipline Office will coordinate with local government units and concentrate on crucial areas and perennial traffic choke points like Balintawak, McArthur Highway, Ortigas Avenue Extension, Sumulong Highway, Marcos Highway, Coastal Road, Roxas Boulevard, Alabang, Pasay and Cubao, as well as the vicinities of famous churches.
The MMDA's Roadside Emergency Group will also be on standby to provide roadside emergency service and assistance to the public.