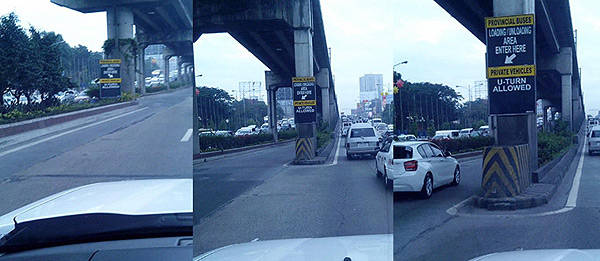 Last Thursday, January 17, a post on Facebook spread through the social network. According to the post, a traffic sign placed just before going up the Boni Serrano flyover in the northbound lane of EDSA going to Cubao, was misleading. Apparently, the sign said that making a U-turn under the flyover for those who'd like to switch from the northbound lane to the southbound one going to Greenhills, was allowed. The problem, though, was that Metro Manila Development Authority personnel were apprehending those executing the U-turn because it was supposedly only allowed from 5pm to 6am.
So, why was there a sign that said U-turns were allowed under the flyover and yet MMDA traffic enforcers were flagging down motorists for violating what they thought was a perfectly legal maneuver?
The problem apparently lied in the traffic sign. According to the complainant, the instruction dictating that U-turns were only allowed at a certain time was painted in the same shade of green as the sign, rendering it practically invisible to motorists.
Well, one Facebook member who responded to the post tagged the MMDA in her reply, which then alerted the head of the agency's traffic-discipline office, Yves Gonzalez. In response, Gonzalez clarified that the U-turn slot is open at all times, which was why the previous time limit had been essentially erased by painting it the same color as the sign's background shade.
Continue reading below ↓
Recommended Videos
Gonzalez also mentioned that the "complaint" had been forwarded to the MMDA's enforcement and engineering department for it to be resolved. True enough, a day later, the agency replaced the old sign with a new one, which now clearly states that making a U-turn under the flyover is "allowed at all times."
Kudos to the MMDA traffic-discipline chief for his prompt action on the problem. He gives us hope that there are still some good men in government whom we can trust.
We also hope that Gonzalez can go after those unscrupulous traffic enforcers who succeeded in filching from innocent motorists and made a living out of their supposed violation.
Photos from Bel Sayson's and the MMDA's Facebook pages