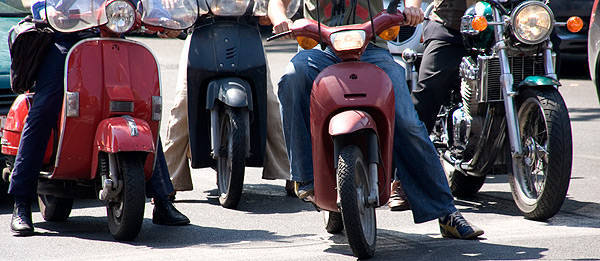 Starting tomorrow, February 14, the Metropolitan Manila Development Authority (MMDA) will enforce the use of a designated motorcycle lane along Epifanio de los Santos Avenue (EDSA).
The MMDA has designated the fourth lane from the sidewalk as the motorcycle lane and it will run the length of EDSA from Monumento in Caloocan City to SM Mall of Asia in Pasay City, and vice versa. Like the motorcycle lanes on Commonwealth Avenue and Macapagal Boulevard, the motorcycle lane on EDSA is not exclusive to motorcycles. Private vehicles may also use it, prompting MMDA chairman FrancisTolentino to ask motorists to be more cautious on the road.
"I am appealing to the private motorists using the motorcycle lanes to observe maximum tolerance for motorcycle riders to avoid any accident," said Tolentino.
Tolentino added that, like how the motorcycle lanes were first used on Commonwealth Avenue in Quezon City and Macapagal Boulevard in Pasay and Parañaque City in October 2011, a one week dry-run will be observed. Violators who are apprehended during the dry run will not be issued traffic violation tickets; instead, they are required to attend a 15-minute road safety seminar at designated areas along Roxas Boulevard, Orense, White Plains, Timog and Quezon Avenue. Motorcyclists who complete the seminar will then be given heart-shaped stickers bearing the MMDA logo and the phrases "Certified Motorcycle Riders" and "Disiplinado Ako".
Continue reading below ↓
Recommended Videos
The MMDA also clarified that motorcycle riders may deviate from the motorcycle lanes only when they are making a turn or u-turn at authorized intersections and u-turn slots. In the process of doing so, they are advised to gradually shift lanes at least 200 meters away from the turning point while making the appropriate signals.
In preparation for the motorcycle lane's implementation on EDSA, the MMDA started putting up signs over the metro's main thoroughfare advising motorcyclists where the lane is last January.