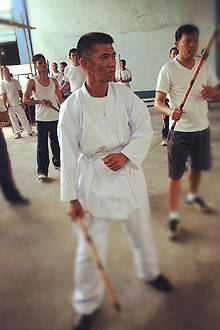 The Metropolitan Manila Development Authority's traffic enforcers are now receiving martial arts training "to equip them with basic self-defense skills to ward off violent attackers."
The martial arts training was undoubtedly influenced by Robert Blair Carabuena's attack on MMDA traffic enforcer Saturnino Fabros, which was caught on-camera and broadcast on national TV and spread virally through social media. According to MMDA chairman Francis Tolentino, the training program's purpose is to help the enforcers defend themselves against attacks by motorists and even criminal elements.
"We do not want them to be aggressive and use their skills in abusing anyone," said Tolentino. "This is only for self-defense. At the same time, we want to show to the public that we can go to their aid and defend them in critical situations."
As it happens, Fabros is part of the first batch of enforcers who will undergo rigid training on stick fighting or arnis, knife defense, and hand-to-hand combat at the MMDA grounds in Makati City under the instruction of martial arts experts from the Modern Arnis Mano-Mano Filipino Martial Arts school in Pasay City headed by Tony Nicolas.
Joining Fabros in the initial batch of trainees are 49 other enforcers who will undergo three sessions of martial arts training. Tolentino added that it will take a month to train all 1,600 of the agency's traffic enforcers, and that all of them will be issued batons to complement their arnis training.
Continue reading below ↓
Recommended Videos
Photo from Ramon Jocson's Twitter account