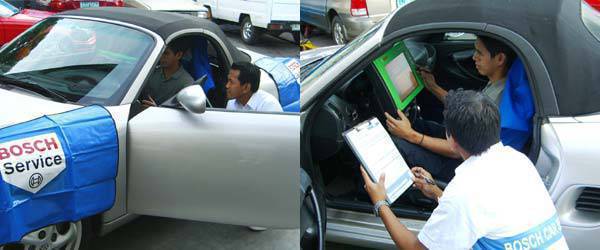 Robert Bosch, Inc., the local unit of global automotive technology leader Robert Bosch GmbH, hopes to arm more Filipinos with skills in automotive mechanics to boost their competitiveness in the local and international job markets.
Bosch's Hari ng Talyer program, in partnership with the Technical Education and Skills Development Authority (TESDA), currently provides automotive skills to students in the government agency's 120 units and at the Philippine Automotive Technical Training Center in Makati City.
"The Philippines is a service-driven economy. By supporting skills development through TESDA, Bosch aims to contribute to enhancing the country's services sector and enable more Filipinos to find quality employment and livelihood," Bosch Philippines managing director Joseph Hong said.
The Hari ng Talyer program now has 5,500 graduates, 4,500 of whom finished their training in 2009.
"We have good reason to expect a greater number of enrollees in 2010," said Kaycee Crisostomo of Bosch Philippines' corporate communications manager.
The Hari ng Talyer program is open to workshop or talyer owners, operators and mechanics, as well as to people who plan to work in the auto services industry, Crisostomo said. He added high school graduates "who have a general knowledge and interest in cars and engines are also eligible" to take the program.
Hari ng Talyer students learn courses in Diesel Fuel Injection, Automotive Electrics and Electronics, and Engine Management.
The program taught in the Philippines uses the same technical modules used in more than 14,000 Bosch Car Service outlets worldwide.