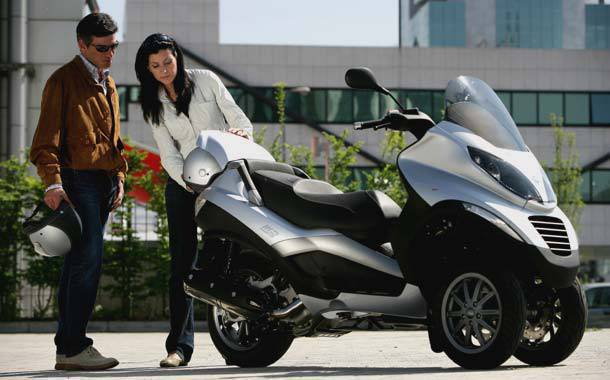 Good news to those who want to try motorcycles as an alternative to cars, but are too sophisticated for the Japanese and Chinese scooters that swarm the roads of Metro Manila: Italian motorcycle brands Piaggio, Vespa and Gilera have arrived.
A new motorcycle distributor called MotoItalia Philippines--a joint venture between the Autohub Group and Garden Barn--last week officially announced the arrival of the three Italian motorbike brands from the Piaggio Group. Founded in 1884, Piaggio apparently is the fourth-largest motorcycle manufacturer in the world, the top three being Japanese. The company currently has six motorcycle brands--the abovementioned brands plus Aprilia, Derbi and Moto Guzzi--but MotoItalia is bringing in just three for now.
ADVERTISEMENT - CONTINUE READING BELOW ↓
ADVERTISEMENT - CONTINUE READING BELOW ↓
Recommended Videos
The first MotoItalia showroom is located at 324 Ortigas Avenue, North Greenhills, San Juan City.
To differentiate among the three brands, we'd say they're distinct from one another in that the first is urban (Piaggio), the second is classic (Vespa) and the third is sporty (Gilera). Below are the models to be marketed and sold in the Philippines:
* Piaggio Xevo 400 - P470,000
* Piaggio MP3 250 - P550,000
* Piaggio MP3 400 - P625,000
* Vespa LX 150 - P245,000
* Vespa S 150 - P280,000
* Vespa GTS 250 - P345,000
* Vespa GTS 300 - P370,000
* Gilera Runner ST 200 - P315,000
* Gilera Nexus 300 - P415,000
* Gilera Nexus 500 - P535,000
* Gilera Fuoco 500 - P640,000
Obviously, the price tags are much higher than what we've grown accustomed to with the scooters sold on our market. But if there's one thing the Italians are very good at, it's style. And when you want to be stylish riding a motorbike, you have to pay some premium.


ADVERTISEMENT - CONTINUE READING BELOW ↓