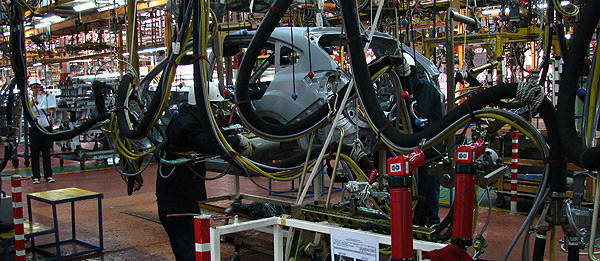 Motor Image Pilipinas general manager Mike Luyun has been involved in the Philippine automotive industry for a long time, with his most recent stint being as head of his company's after-sales department prior to his being named the overall head of the country's Subaru distributor.
As such, a man in his position would have had the opportunity to visit the assembly plants of the vehicles he once serviced in his previous role within Motor Image Pilipinas--the same vehicles he is now selling as the head honcho of MIP.
So, one has to take seriously what Luyun says when, after taking a tour of the new XV assembly facility in Malaysia this past week, he still prefers the XVs made at Subaru's Gunma plant in Japan.
"I've been to Subaru's assembly plant in Japan, and compared to what I've seen of the facility in Malaysia, I still prefer the Japan-made Subarus," Luyun told TopGear.com.ph. "Almost the entire assembly of a vehicle in Japan is done by robots, so everything is done precisely at any time of the day, whereas in Malaysia, a lot of it is still done by hand so there's still the factor of human error. At the start of the day, the workers may have a lot of energy. But later in the day, fatigue steps in and this is when errors start to happen."
Continue reading below ↓
Recommended Videos
You can say then that we're lucky because not only are we getting Japan-made Subarus at prices that are a little more affordable than those in our ASEAN neighbors, our units are also manufactured more rigorously and consistently.
UPDATE: Motor Image Pilipinas has contacted us to clarify that they are not implying that Malaysia-made Subaru XVs are inferior to Japan-made XVs. "We won't be sourcing XV units from Malaysia not because these units are inferior, but because they don't make left-hand-drive units." Apparently, the statements made by MIP's general manager are merely a declaration of his personal preference, not an official stamp of approval. So there, Motor Image Pilipinas's official stand is: Whether made in Malaysia or Japan, a Subaru XV is a Subaru XV.
Photo by Patrick Everett Tadeo