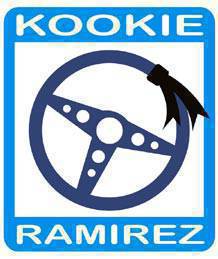 As you already know, the Philippine motoring community lost a well-loved member today when race driver Kookie Ramirez finally succumbed to cancer. As expected, friends, colleagues and fans poured out their condolences on the social-networking site Facebook. Below are just some of the heartfelt messages posted online:
"Thank you, Kookie, my idol, my friend, my brother in racing. Rev in peace." – Mikko David
"Met the man very briefly a year ago but he was really a class act. Rest in peace, sir." – Patrick Tadeo
"After an amazing last push that has inspired countless individuals, the Lord finally waves the checkered flag! A true champion in life's race; heaven's podium will forever be his resting place. We will miss you so much, idol. Race in peace." – Justin Dominic Robles
Continue reading below ↓
Recommended Videos
"The BMW Car Club of the Philippines expresses its deepest sympathy to the family of the late Kookie Ramirez. Thank you for teaching us how to be safe and better drivers. We mourn again the loss of another legend in Philippine motorsports." – Edwin Reyes
"May he finally rest in peace in the arms of our Lord and Savior. His battle with cancer was long and painful, just like his dad's. I can't help but mourn the passing of another racing icon." – Marcelo Augusto Cosgayon
"I will miss my friend. Goodbye, Kookie." – James Deakin
"We may never know why or even how, but we do know that Kookie's mission on earth was done, so now he passes over to get his report card and it will probably have a lot of A's! Have a safe drive as you zoom off to eternity, Kookie. You were so loved and shall be so missed." – Lisa Mapua
"We will miss you, my friend. You have given the motoring industry years of quality journalism and professional driving experience. It was a privilege to be your friend." – Kenneth Tan
"Tito Poch is now happily driving wheel-to-wheel with him." – Ardie Lopez
"The champagne is yours, sir Kookie." – Rey-Rey Fernandez
"Thank you, sir Kookie, for your contribution to the motoring scene in our country." – Mark Balmaceda
"I hope Kookie's looking down at all of this and smiling." – Winston Baltasar
Meanwhile, motoring journalist Ardie Lopez of the TV show Auto Extreme designed the special icon you see here, which is being uploaded by Kookie's friends and followers as their Facebook profile pic. Feel free to do the same.