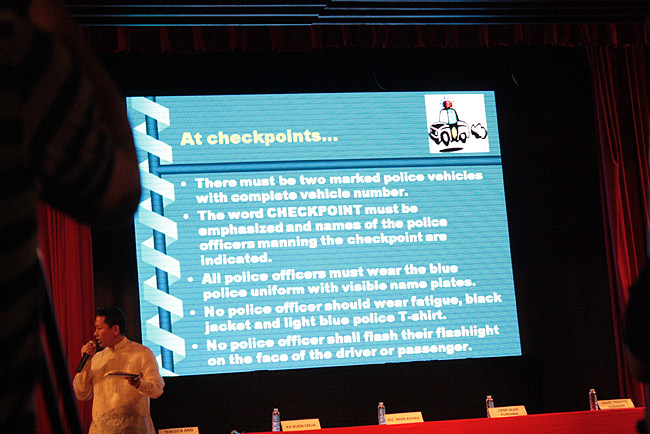 One of the speakers at yesterday's "Anti-Kidnapping Action and Prevention Forum" was a guy named Francis, a kidnap-for-ransom victim himself. He shared that he had been abducted by people pretending to be the police. Francis may just be one victim seized by criminals pretending to be law enforcers, but it doesn't necessarily make his case an isolated one.
"Statistics are meaningless to us," said Teresita Ang See, founding chairperson of the Movement for Restoration of Peace and Order (MRPO), at the forum. "It doesn't matter if there are 10, 20 or even just five cases. Behind each of those numbers are shattered lives of people. They live very abnormal lives after the kidnap-for-ransom ordeal. You cannot fathom how difficult it is to live after being kidnapped."
So, how do you make sure you're actually dealing with a cop and not a crook? MRPO distributed at the forum a leaflet that details safety tips at checkpoints. The leaflet even discusses how to identify a phony checkpoint. Here are MRPO's tips:
1. Recognize a real checkpoint.
* A checkpoint should be located in a well-lit area.
* There must be two marked police vehicles with complete vehicle numbers.
* The "Checkpoint" sign should be visible, and the names of the police officers on duty should be indicated.
Continue reading below ↓
Recommended Videos
2. Identify a cop from a crook.
* Officers on duty should be wearing the blue police uniform with visible nameplates.
* Police officers on duty should not be wearing fatigues, black jackets or light-blue police shirts.
3. Know your rights, and know when cops are overstepping their boundaries.
* Police officers are not allowed to flash their lights on the faces of the drivers and/or the passengers.
* The driver and/or the passengers have the right to refuse opening the compartments of their vehicle.
* Police officers are instructed to respect the driver and/or the passengers of the vehicle. Thus, they do not have the right to open your door nor get inside your vehicle if you do not allow them to.
* Cops must never fire a weapon when a driver doesn't stop at the checkpoint.
Now, make sure your loved ones know about these tips as well. Be careful out there.
Photos by Tracy Carpena