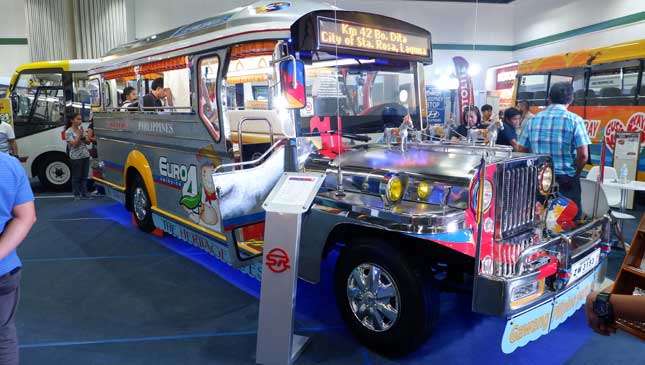 That vehicle in the photo above? That could very well be what you'll ride to work in the not-so-distant future.
The very first Philippine Auto Parts Expo was recently held at the Philippine Trade Training Center in Pasay City. Though brief, the event gave the public a good glimpse at the possible future of the country's public transportation.
The show floor displayed an array of futuristic jeepneys and buses, from electric-powered vehicles to ones with Euro 4-compliant engines. The good news is that they all have commuter-friendly features like spacious seats, ample headroom, and some even had electronic payment docks installed. A few carmakers, like Toyota Motor Philippines (TMP) and Mitsubishi Motors Philippines, also featured their local manufacturing efforts as part of the CARS program. 
Continue reading below ↓
Recommended Videos
"These prototypes are a result of our thorough design development with the two leading body manufacturers in the country—Centro and Almazora. Our prototypes conform with the initial standards released by the DTI (Department of Trade and Industry), and we are happy with the outcome; but still we need to conduct series of tests to ensure passenger comfort," said Isuzu Philippines president Hajime Koso.
"Toyota's stance has always been manufacturing vehicles with a view to developing local industry and contributing to the betterment of society in its host country. Our resolve to push the expansion of local manufacturing capabilities became even stronger with the CARS program," said TMP president Satoru Suzuki.
Check out our gallery for a peek at the future of Philippine public transport and car manufacturing. Do you see yourself riding these models in the coming years?