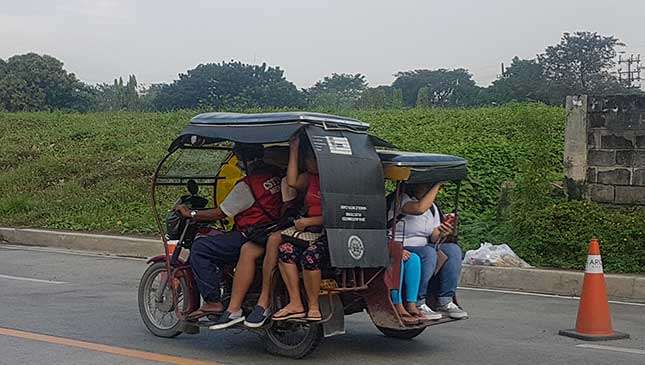 In what must seem like a scene out of a science-fiction movie, the most popular beach in the Philippines is empty at the height of summer. This is because Boracay island came under fire for being overpopulated with locals and tourists, and is now closed for rehabilitation.
ADVERTISEMENT - CONTINUE READING BELOW ↓
As hotels, resorts and even shopping malls mushroomed all over the place, the national government initiated moves to restore this island paradise island, rated as one of the world's best vacation spots. After describing the area as a 'cesspool,' President Duterte ordered Boracay closed to tourists for six months starting last April 25 for the rehab work.
While all of these were unfolding, the chaotic transport system in the island barely landed on news headlines. With a land area measuring only some 10 square kilometers, Boracay has about 3,000 vehicles according to an official of the multi-agency task force involved in the rehabilitation of the island.
These include hotel shuttle vans, delivery trucks, passenger jeepneys, tricycles, motorcycles, ATVs (all-terrain vehicles) and even golf carts. The transportation situation in Boracay worsened when vehicles that ferried delegates of the past ASEAN meetings never left the place.
Before, only motorcycles and tricycles were allowed to traverse the narrow main road from Puka Beach at Barangay Yapak in the northern tip, to Cagban Port in the south.
ADVERTISEMENT - CONTINUE READING BELOW ↓
Recommended Videos
"We are now coordinating with the Land Transportation Franchising and Regulatory Board (LTFRB) to conduct anti-colorum operations in Boracay," says Land Transportation Office (LTO) chief Edgar Galvante during an interview. Galvante also believes that there is a big number of unregistered vehicles that made its way to the island, triggering daily traffic in Boracay.
A few days ago, stakeholders in the island held a meeting to discuss the different proposals of the government to decongest the area of vehicles.
Among the possible policies being eyed for implementation is allowing only two shuttle vans per hotel or resort. ATVs for rent, which are popular among visitors, might be phased out. Golf carts could also be banned from the place.
Also, the anti-agency body on Boracay rehabilitation is bent on imposing the ban on tricycles that run on internal combustion engines. A policy that has long been approved by local government authorities, these three-wheelers mostly powered by two-stroke engines will be replaced by environment-friendly electric tricycles. Implementation is targeted for August this year, or one month before the lifting of Boracay's closure order.
ADVERTISEMENT - CONTINUE READING BELOW ↓
According to Department of Tourism (DOT) assistant secretary Frederick Alegre, newly installed DOT secretary Berna Romulo-Puyat was briefed on the status of the transportation system in Boracay island. Puyat expressed willingness to visit Boracay soon to personally assess the issue in the area, he said.
Considering all of these plans and policies, how many vehicles do you think should be allowed to ply the roads of Boracay?