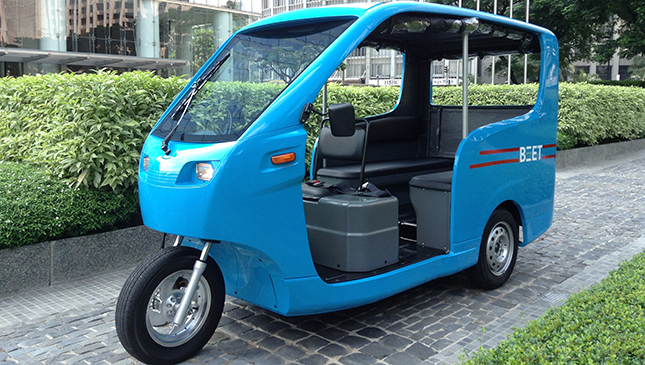 The Electric Vehicle Association of the Philippines (EVAP) is pleading for the government to continue the Department of Energy (DOE) ETrike Program, after the agency cancelled the project due to its supposed economic unviability.
In a statement sent to us by EVAP president Rommel Juan, the organization called for the government to push through with the program, albeit with a revised terms of reference. According to Juan, a green financing program could be developed to use government financial institutions as loan conduits, adding that this could be administered by either the Department of Transportation (DOTr) or the Department of Interior and Local Government (DILG).
"This will not only help preserve our environment but generate new job opportunities, bring in foreign investors, reduce our dependence on fossil fuel importations thus saving us precious dollars and generate additional taxes for the government as well," Juan explained in the statement. "We have a sunrise industry in our hands. It needs the caring and nurturing arms of government. We hope it listens to our plight."
ADVERTISEMENT - CONTINUE READING BELOW ↓
EVAP is composed of around 50 institutions in the local EV scene including assemblers, manufacturers and importers. During the first and second biddings for electric tricycles, EVAP member Bemac won the initial bid for 3,000 units.
"There are so many proofs of concept now that show Electric Vehicles actually work in the Philippine scenario. There are EJeepneys running in Makati, Muntinlupa, Filinvest City and Ateneo de Manila, to name a few. There are already successful ETrike deployments in the cities of Mandaluyong, Bacoor, Naga and Boracay," said Juan.
Unfortunately, the Etrike Program seems to have already lost its spark with energy secretary Alfonso Cusi. In a report by the Philippine Star, Cusi said that the government stands to suffer if it were to continue the project, saying it just isn't economically viable.
"The EV industry's growth will be disrupted. If the government will support a project that is not viable, then that will really be a problem for them," he said. According to the report, Cusi also said that there are still no takers for the aforementioned 3,000 units due to the steep cost of maintenance and charging stations.
We hope concerned government agencies can come up with a creative solution to make this work. God knows we've had enough of riding overworked and overloaded smoke-spewing tricycles to work on a daily basis.
ADVERTISEMENT - CONTINUE READING BELOW ↓
Recommended Videos