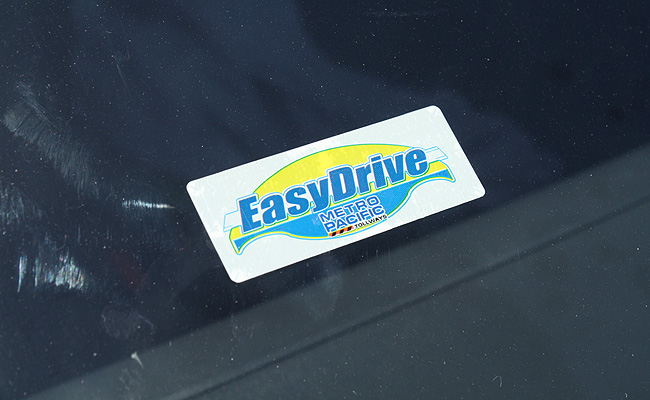 Metro Pacific Tollways Corporation, the concessionaire of the Cavite Expressway (Cavitex), has officially launched its newest payment scheme for the 14km expressway system.
Called EasyDrive, it makes use of radio frequency identification (RFID) technology through a paper-thin, battery-less chip in the form of a sticker that's placed on a vehicle's windshield. Each sticker has a specific identification number, "thus effectively avoiding duplication." Since the RFID reader at a tollbooth only needs to read the data encoded on the chip, vehicles only have to slow down for the system to read it and not make a full stop, thereby limiting transactions at three to four seconds per vehicle and thus decongesting the toll plaza.
"EasyDrive was a creation of MPTC's research-and-development team, consistent with the company's continuing innovation thrusts to attain the ultimate customer satisfaction in terms of tollways products and services," said company president Ramoncito Fernandez.
For the initial deployment, MPTC is releasing 3,000 EasyDrive stickers and its matching swipe card for Class 1 vehicles at a cost of P200 each, with a P200 initial minimum load for each sticker. By the end of the year, MPTC will reportedly have 30,000 stickers for the public. As for the aforementioned matching swipe card, it serves as a backup in case the RFID reader at the tollbooth breaks down.
Continue reading below ↓
Recommended Videos
Before the sticker can be placed on a vehicle, Cavitex's trained personnel have to check the vehicle's windshield if the RFID reader can detect the data-encoded sticker. According to the MPTC, the EasyDrive stickers can be bought at the toll plaza in Parañaque, with reloading facilities to be available in convenience stores by July.
Although the MPTC already has the E-Tap card system in place on Cavitex, the EasyDrive system was supposedly designed to complement and not replace it.
"The E-Tap card can serve your payment system for your coding vehicle since it's transferrable," said Toll Regulatory Board executive director Edmund Reyes. "Since you can't remove the EasyDrive sticker, it can stay on your main vehicle while you can use the E-Tap card for your coding vehicle."
Asked why the EasyDrive sticker system was first deployed on Cavitex and not on North Luzon Expressway, Fernandez explained that since the former has less traffic and is shorter in length, it was easier to put up the system and its required hardware there.
Fernandez added that MPTC hopes to implement the EasyDrive RFID system on NLEX "before the end of the year" as part of the upgrade the company is currently doing on its premier tollway system.
Photos by Patrick Everett Tadeo