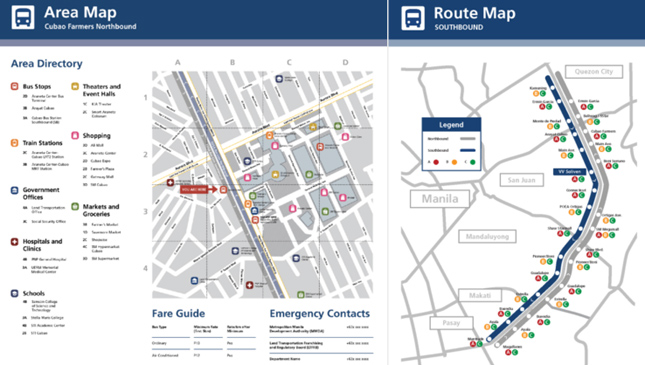 We're just going to go ahead and say this: Getting around Metro Manila can be a real pain in the *ss. It doesn't help that the sorry excuse for a public transportation system we have is a mere hodgepodge of seemingly unplanned, disorganized railway lines and bus routes. It's absolute chaos, and our government looks ill-equipped to handle it.
Thankfully, a web- and app-based public-transport service for Pinoy commuters called Sakay.ph saw our transport system for what it truly is and--using creativity (and common sense)--got to work on a possible solution. We came across the Sakay.ph team's concept and just had to share it with you.
"We've been working hard to make our app and website the best online resource, but we've often asked ourselves: How and where else can we make the information more approachable?" they explained. "Turns out, we just had to look up from our screens."
The team redesigned the city bus system's signage. Yes, a simple design overhaul can make our bus routes that much more organized and easier to understand. Our favorite bit has to be the easy-to-read routes and stops on the front and sides of the buses. Frankly, we're tired of having to squint just to try and read those cheap signs hanging from inside the windshield.
Continue reading below ↓
Recommended Videos
"The project also served as an illustration of how big problems can be tackled from a variety of angles," they added. "If we really want change, we shouldn't limit ourselves to the media or contexts that we're most familiar with."
The Sakay.ph team said that the project is only an "exploratory study," and is not commissioned by any government agency. If our transportation agencies showed the same sense of initiative as these guys, maybe commuting in the city wouldn't be as excruciating an affair as it is today.
Images from the Sakay.ph blog