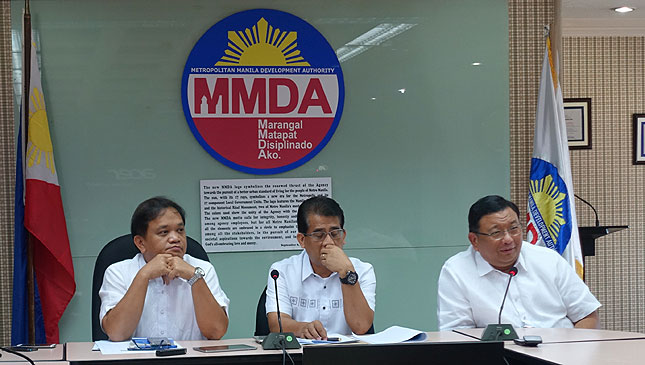 Did you know that there is a shortage of buses on EDSA during peak hours? That's what Cabinet Secretary Rene Almendras revealed yesterday during a press conference at the MMDA headquarters. You may sometimes feel that you and your car are surrounded by these gigantic vehicles daily, but Almendras's claim is backed by numbers.
"Over the past months, we've done time-and-motion studies for every segment of EDSA from Balintawak to Roxas Boulevard," the Cabinet Secretary said. "From 6am to 9am, kulang tayo sa bus. From 5pm to 9pm, kulang din tayo sa bus." He pointed out that buses only account for 16% of vehicles on Metro Manila's main thoroughfare, but they carry 72% of the people taking EDSA.
"There is an overcapacity of vehicles on EDSA, so what we're trying to do is to make it more efficient," Almendras declared. And in an effort to decongest EDSA and move more people at a faster pace, the government is launching the holiday nonstop bus service.
ADVERTISEMENT - CONTINUE READING BELOW ↓
Beginning December 5, this new service, which will initially deploy 20 buses, will start operating to encourage car owners to leave their vehicles at home (or park them at the mall) and take this bus service instead. The holiday bus service will end on January 6. But why would you want to trade the comfort of your own car to ride this bus?
"The key feature of this service is that they are scheduled buses," Almendras explained. A bus has a fixed schedule to follow. Dispatch times will vary, depending on the need. "Puno o hindi, aalis itong bus na ito. You are sure that you will leave Megamall at 7am and you will be on Ayala Avenue before 8am."
In addition to being on time, these buses will not pack passengers like sardines, seating only four passengers per row. With no standing passengers allowed, the bus service will operate daily and load only in off-street areas.
ADVERTISEMENT - CONTINUE READING BELOW ↓
Recommended Videos
This medium-term solution aims "to increase the throughput of people on EDSA," according to Almendras. "We are prioritizing the commuters in being able to move as fast as they can. I'm sorry, but the decision here is efficiency. One car has only two passengers, versus one bus with 40 people. We have a finite resource, and we have an EDSA that has only five lanes."
If you still prefer to take your car daily, worry not: Long-term plans are in the pipeline, too. Expect announcements of these plans and infrastructure updates after Christmas.
In the meantime, if you're thinking of giving this new bus service a shot, this is how it works. Here are the routes, fare prices and schedules:
* Trinoma to Park Square terminal (fare: P80). On weekdays, the dispatch starts at 6:15am. A bus will leave Trinoma every 30 minutes until 10am. From 10am to 3pm, intervals become hourly. By 3:30pm, bus dispatch happens every 30 minutes again until 6:30pm. By 6:30pm, the interval between trips becomes one hour again until 10pm. On weekends and holidays, the first bus trip is at 9am.
ADVERTISEMENT - CONTINUE READING BELOW ↓
* SM North EDSA to Glorietta 5 (fare: P80). The first buses from SM North EDSA and from Glorietta 5 leave at 6am. The interval between trips is 30 minutes. The last trip from both directions is 10pm. On weekends and holidays, the first bus trip starts at 9am.
* SM Megamall to Park Square terminal (fare: P50). No bus schedule was provided, but it should be posted at the loading area.
The Trinoma-to-Park Square terminal and SM Megamall-to-Park Square terminal routes will be serviced by Genesis Transport buses (six for the former, and four for the latter). Meanwhile, 10 Froehlich Tours buses will take care of the SM North EDSA route. The 20 buses are air-conditioned and GPS-tracked. Exempted from the number-coding scheme, these buses will have stickers that identify them as holiday nonstop buses.
Note that Makati-bound buses will be allowed only to unload passengers at normal unloading bus stops along Ayala Avenue.
ADVERTISEMENT - CONTINUE READING BELOW ↓
"If the market responds well, we will dispatch more buses," said Almendras. "My estimate is that for every holiday bus that runs, I get rid of 20 cars on EDSA. If I have 10 buses, I'm looking at 200 cars off EDSA every trip."
So, car owners...let's give this a try this holiday season?
Photos by Tracy Carpena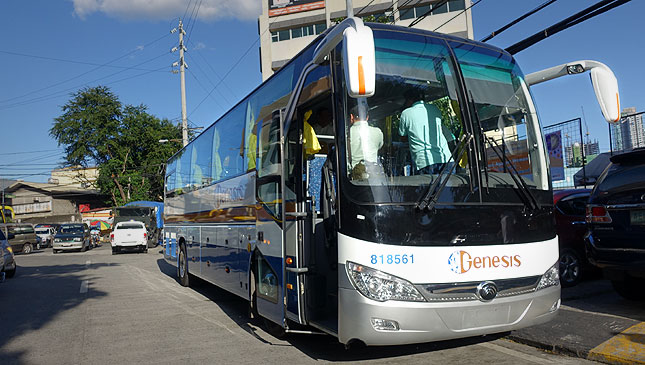 ADVERTISEMENT - CONTINUE READING BELOW ↓