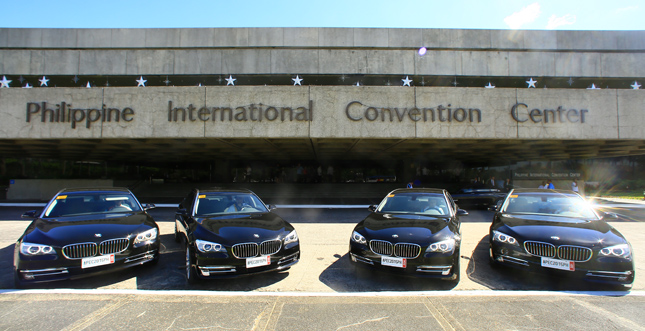 You already know that this week--November 16 to 20--is APEC Week, which threatens to create traffic chaos the likes of which we've never seen. Considering that a recent Waze survey has already anointed Metro Manila as having the worst urban traffic in the whole world, the mere thought of 20 world leaders descending upon our little patch of the earth should send shivers down our collective spine.
APEC stands for Asia-Pacific Economic Cooperation, a league of 21 countries striving to foster free trade and other economic activities among them. The Philippines, obviously, is one of those countries--and so are Australia, Brunei, Canada, Chile, China, Hong Kong, Indonesia, Japan, Malaysia, Mexico, New Zealand, Papua New Guinea, Peru, Russia, Singapore, South Korea, Taipei, Thailand, the United States, and Vietnam. Whew! These are some powerful nations. And their heads of state are arriving for the so-called APEC Economic Leaders Meeting slated for November 18 and 19 at the Philippine International Convention Center.
You're probably thinking: All this hoopla and all this trouble for just two days of high-level powwow? Well, if you have Barack Obama visiting your house, there has to be a lot of hoopla and a lot of trouble. The Secret Service will make sure of that. And President Aquino and his minions will fully cooperate, because you wouldn't want any attempts on the POTUS's life under your watch.
Continue reading below ↓
Recommended Videos
After the terroristic violence unleashed in Paris over the weekend, what had already been expected to be tight security protocol during APEC Week has just gotten tighter. And so our first advice to you is: Get out of the way if you see a BMW vehicle with the APEC 2015 plate attached to it. BMW is the official luxury mobility provider for this historic event.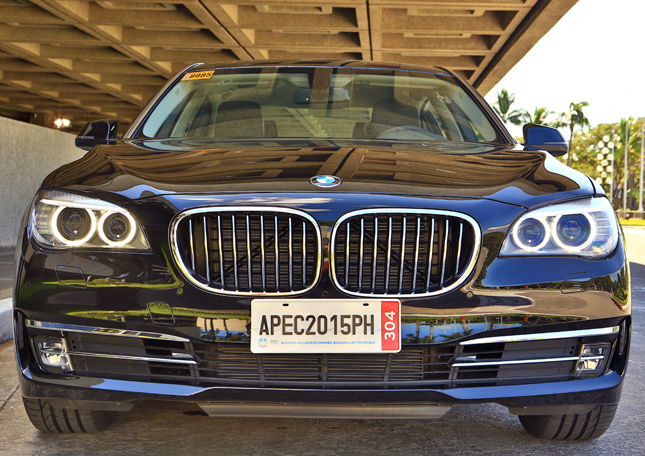 Aside from the BMW 5-Series and 7-Series units provided by Asian Carmakers Corporation, other vehicle brands you might spot bearing the APEC plate are Toyota and Nissan, which are both also extending free use of their vehicles to APEC delegates. According to Manila Bulletin, Toyota will lend "50 Corolla Altis 1.6V AT units, 50 Fortuner G diesel 4x2 AT units, 90 Fortuner V diesel 4x2 AT units, 43 HiAce GL Grandia MT units, and 70 Camry 2.5 G AT units." Nissan, meanwhile, will make available "50 Altima units, 85 Sylphy units, 100 NV350 Urvan units, and 90 Almera units."
But remember to especially steer clear of any BMW sedan sporting a "1" plate, because you can be sure that car carries a president or a prime minister--and that it is accompanied by heavily armed guards who won't think twice about ramming your vehicle should they suspect that you're a security threat. Like this one transporting President Michelle Bachelet of Chile...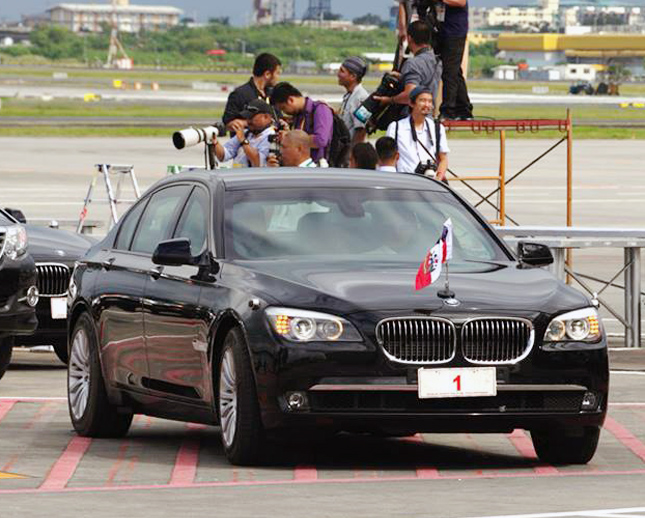 Thankfully, you won't really have to drive on November 18 and 19 because Malacañang has already decreed these dates to be special non-working holidays in the National Capital Region. Students and government employees have a longer downtime--their classes and work are suspended from November 17 to 20. Check out this table (and be green with envy if you don't work in Metro Manila):
The government is serious about getting as many motorists as possible off the road this week. For one, in spite of the suspended classes and work, the MMDA will still implement the number-coding scheme.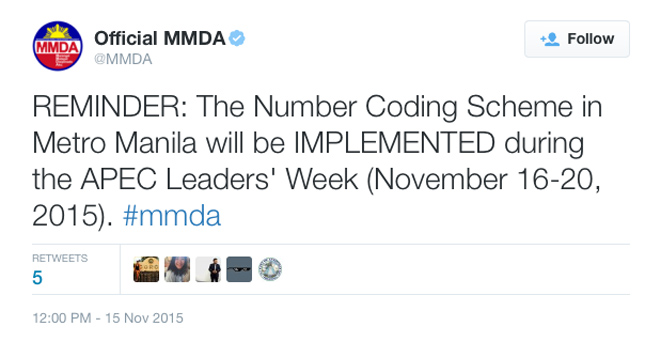 And if you still can't take a hint, the official APEC 2015 website has this not-so-subtle advice for you: GET AWAY FROM METRO MANILA. We're not making this up. This is the very first tip on a list of "21 things you should know to make the most out of the long weekend." Here's the screenshot: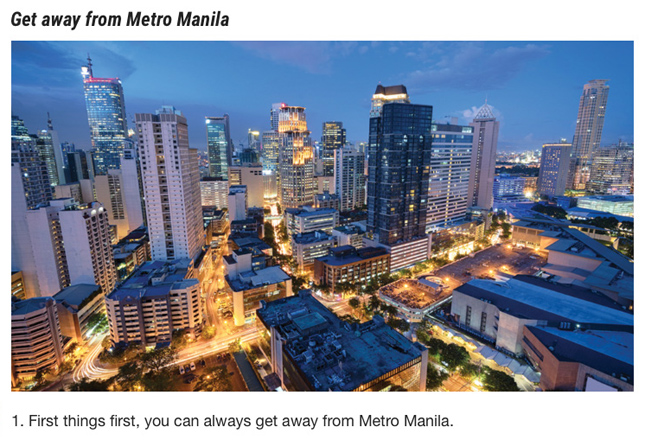 If you're reluctant to give in to their wishes, they have another suggestion, this time spelling out your destination for you: GO UP NORTH. As in Baguio. As in Sagada. As in Ilocos Sur. As in La Union. Still not convinced? You can also do this: EXPLORE THE SOUTH. Drive to Tagaytay, Laguna, Batangas. Anywhere. Just go somewhere outside Metro Manila. Yes, they really want you out of town. It's that simple.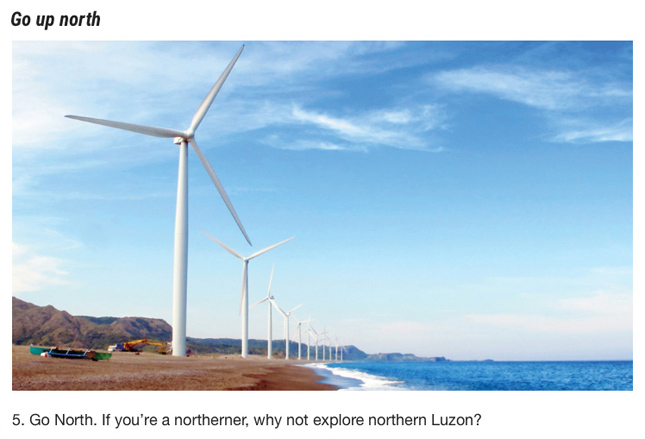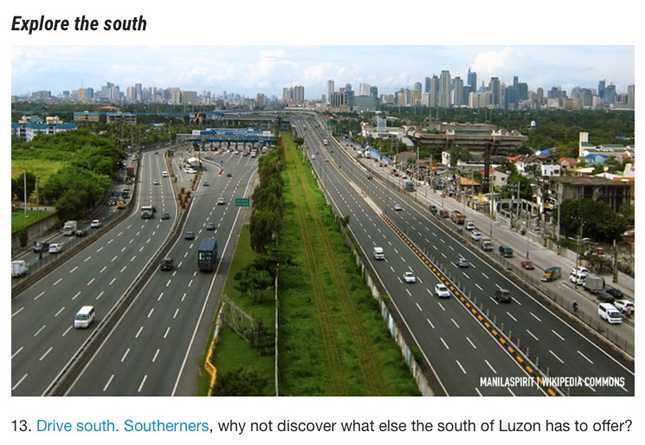 Of course, because our government is sensitive to our plight, they've actually taken into consideration those of us who are too hard up to afford a road trip and a vacation, and they have just the solution: STAYCATION. Yep, if you can't get out of Metro Manila, please stay inside your house. They're serious.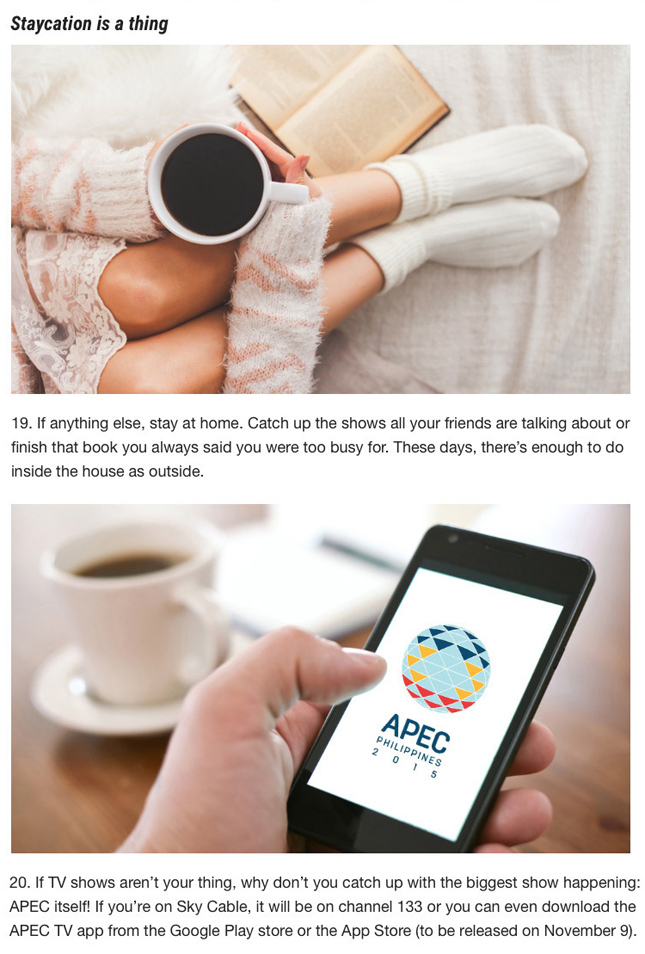 Other tips from the APEC website? Here (in italics):
* Some roads will be closed from November 16 to 20. However, alternate routes have been set. The entire Roxas Boulevard will be closed, while EDSA will devote some of its lanes strictly for APEC use.
* NAIA will be a no-fly zone on November 17, 19 and 20. To ensure the safety of the 21 visiting leaders and delegates, NAIA will not be open to the public at certain times and days.
* If you have a truck, don't even think about going anywhere in Manila (from 6am to 10 pm at least).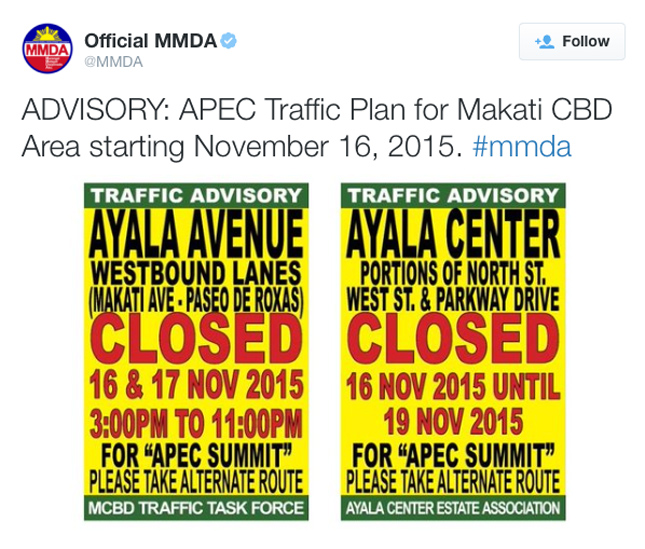 In case you haven't been paying attention, the MMDA has strewn orange barriers to create a special APEC lane. Private cars will not be allowed in this APEC lane, obviously. Here are photos that show what the barriers look like, so you don't miss them: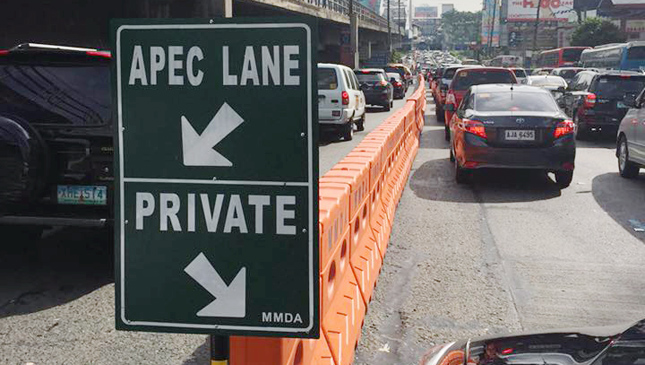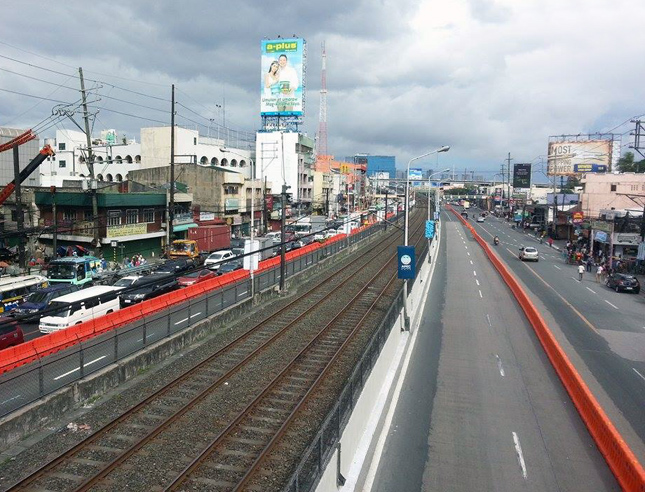 Besides reminding you of your status as a motoring plebeian by physically separating you from the ruling class, the authorities will implement what they call the stop-and-go scheme. Which--let's face it--technically means you don't move if the APEC delegates are passing through.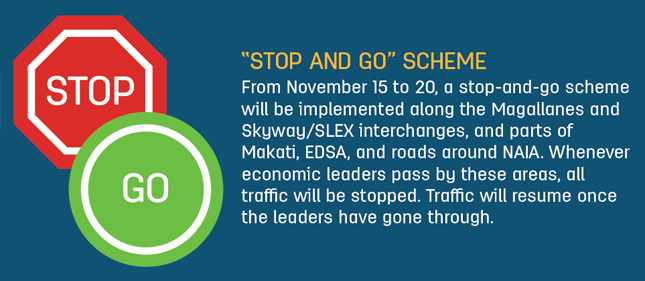 Here's a depressing picture of this stop-and-go scheme: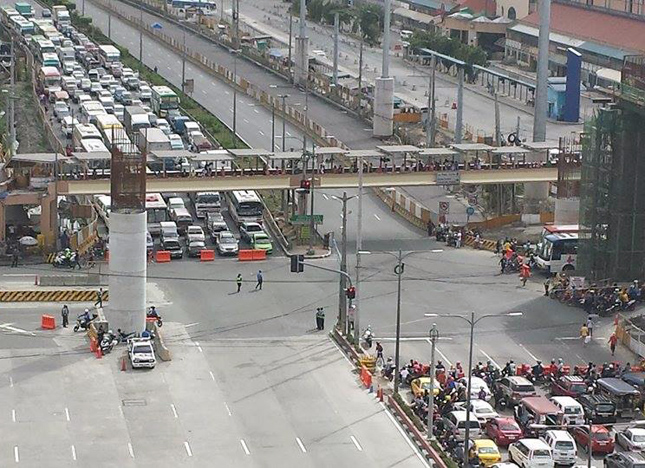 Now, if, after everything we've told and shown you, you're stubborn enough to still want to drive around Metro Manila this week--particularly on November 18 and 19--at least know the official traffic advisories: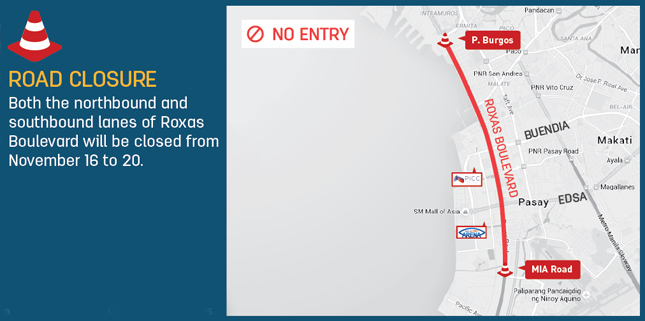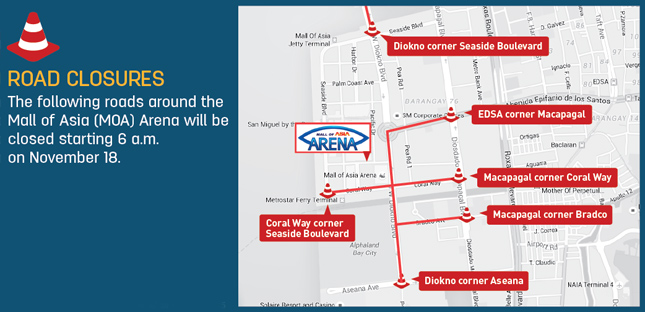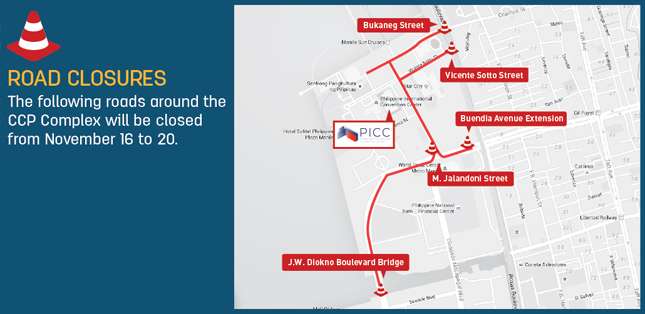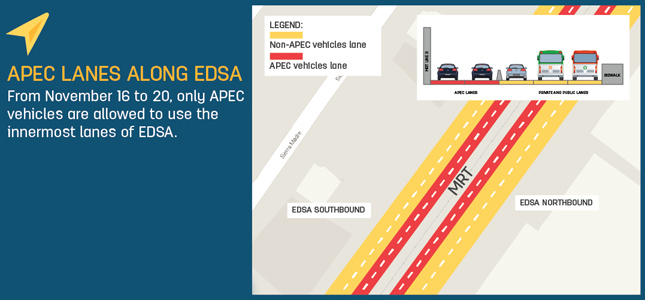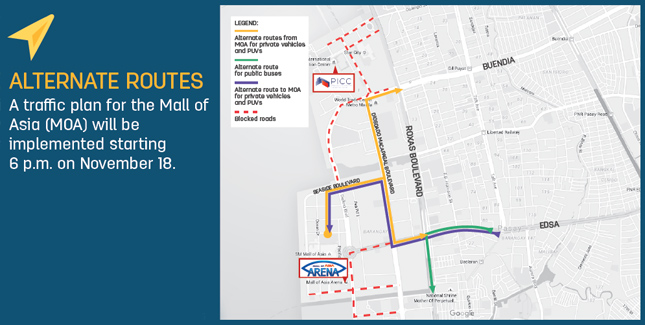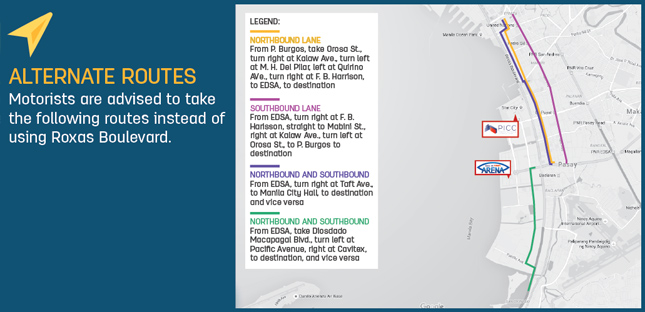 Don't say we didn't warn you. Stay off the road this week--especially around the airport terminals and PICC. We leave you with this photo in a final attempt to appeal to your practical side. Enjoy your days off work.